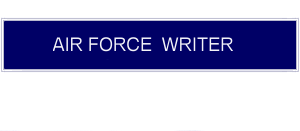 Remarks Block EPR Bullets
- 1st 4 Soldier/Amn commitee mbr; oversaw refreshment set-up/devoted 2 hrs; boosted morale/200+ CJTH staff
- Community oriented; vol'd at Goodwill/furnished clothes/shoes for 300 children; promote to TSgt immediately
- Dedicated! assisted w/2.4K insp--flt earned MXG '10 Air Force Association (AFA) Team of the Year Award
- Sumter County heart walk participant; volunteered 11 hrs--raised $55K for the American Heart Association
- Front and center NCO; rising star infusing her energy and dedication into almost all sq activities; Promote now!
- Epitomizes the "quiet professional" ethos--outstanding attitude, willing & able to work with anyone at anytime
- Driven! Completed Professional Mgr Certificate/Master's Degree w/3.5 GPA--raised leadership potential
- Completed DL business ethics college course; maintained 4.0 GPA--3 credits away from CCAF completion
- Forward-looking NCO--leadership, experience, and expertise capable of mastering any obstacle--promote
- Consistently strived to provide superior results--challenge with greater responsibilities--promote to TSgt now
- Talented NCO with unlimited potential--challenge with broader duties and responsibilities--promotion ready
- Flexible NCO--vast array of technical experience--dedicated to the future of the Air Force--ready to promote
- Highly motivated NCO committed to job accomplishment--unlimited array of technical know how--promote
- Well-versed Amn--displays initiative/professionalism in execution of all assigned duties; promote when ready (3)
- Maintains wing staff agencies recall roster--quality product key to ensuring 100% contact durning base recalls
- Conducted wkly fire symbol inspections; verified 197 facilities; maintained accurate data for first responders
- Excelled as lead dispatcher during the 2011 LCAP inspection; directly contributed to 18 MUNS 83% pass rate
- Sound leadership skills; hand-picked as council member on 36 Wg Airman of 3rd Qtr '10--built future leaders
- Validated 10K lines of accounting; identifed/corrected 150+ errors--saved $6K in manual invoices charges
- Recouped $4K in over-payment to vendor; ensured 100% compliance/optimized government funds--promote
- Authored/briefed four read files/CIBs--detailed OIF/OEF progess--informed FW/CC of threats to 300 Airmen
- Excelled during high ops tempo--scheduled contingency training for over 30 Airmen--promote ahead of peers!
- Assisted critical software tiger team; 298 MDG systems patched/restored--swift response lauded by MDG/CC
- Consistently produces sound results; continue to challenge this NCO with more responsibility--promote!
- Confident and aggressive, she tackles and completes all assigned tasks expeditiously and accurately
- Consistently stays one step ahead of the game. Eagerly seeks out new assignments. Advance to TSgt
- A model NCO, SSgt Smith sets the standard in everything he does; an all-around performer--ready for next stripe!
- First rate professional! Shows ability and initiative to assume greater responsibility--promote now
- Leader, motivator, skilled technician--leads the pack--keep him in the front--promote to SMSgt now!
- Top quality performer with unparalleled potential and solid NCO attributes; promote to TSgt ahead of peers!
- Mature and confident airman with extraordinary knowledge and initiative--immediately promote!
- Provided administrative support to 100K visitors to 2005 Charleston AFB Air Show; ensured 100% support
- Outstanding NCO who leads by example; a solid professional ready for increased responsibility; promote!
- First rate professional! Shows ability and initiative to assume greater responsibility--promote now
- Motivated to excel! Awarded a BS in Education and Workforce Management while maintaining a 3.8 GPA ALL
- MSgt Robins is a dynamic and diverse Senior NCO with a decisive and proactive leadership style
- Briefed weekly in-processing group on space available travel benefits--positive military spokesman
- A positive leadership example that consistently brought out the best in subordinates...promote now!
- Consummate law enforcer; professionally handled any of a variety of situations thrown in his direction
- A first-rate non-comissioned officer who is willing to face up to any task and tackle the issues head on
- Good work ethic; tackles any task above his skill level w/outstanding results--promotion to SrA recommended
- A well rounded individual, supports/encourages participation in squadron and community activities--wingman!
- First-class NCO whose can-do attitude and ceaseless determination are contagious--an excellent role model
- My number one SSgt; proven, exemplary track record confirms he is ready for immediate promotion!
- Gave 30 hrs to KMC AADD program--saved 12 careers...built and manned unit haunted house--raised $2.4K
- Volunteered 20 hrs at skate park--taught 32 teens basic skills...sorted 2K lbs of postal mail--kept msn flowing
- Visited 2 Nicaraguan orphanages; presented over $500 of toys/sports equipment--solidified community support
- Deployed 45 days to Nicaragua; completed $256K in projects--new school/clinic raised QoL for 600 locals
- Operated 2 ROWPU units; made 20K gallons daily for camp personnel--Saved $70K in bottled water contracts
- Installed pressure tank/6K ft of line from water well to base camp--improved shower/laundry water pressure
- Served on the 35 AMXS Christmas party Committee--raised morale for single soldiers
- Conducted single/unaccompanied airmen meeting every Sunday at chapel--fostered a supportive environment
- Deliberately prepared/groomed highly motivated SrA; subordinate captured PME Distinguished Graduate award
- Exchanged language lessons; learned basic Japanese/taught English--improved important US/Japan relations
- Volunteered 20 hours off duty time assisting Lowry Open Window Foundation Nov 05' Thanksgiving holiday -- Prepared dinner for 60 combat wounded soldiers; support greatly increased morale for OEF war fighters
- Spearheaded youth/adult annual football game--improved morale for familys/Team Hill's military members
- Organized a team for the March of Dimes "Walk America" 20K march--raised over $500 to combat birth defects
- Volunteer phone bank supervisor at Easter Seal telethon; surpassed its goal--raised $30,000
- Participated in the wing's 2006 bicycle roundup event confiscating over 200 unregistered bicycles--enhanced base appearance
- Provided security for over 1000 cadets, distinguished visitors, and guests during 2005 USAFA graduation
- Volunteered 20 hours supervising and cleaning for the RAF Croughton Youth Group keeping teens off the street
-- Developed and sustained activities for teens--efforts provided a safe alternative meeting place for base teens
- Proficient tech skills; sustained 100% scheduling effectiveness--MXG awarded AFGSC '10 Daedalian Award

New content is posted daily. Check back tomorrow for more examples.