body { background-color: #FFFFFF; font-family: arial, sans-serif; font-size: 16px; text-align: center; } #afwpagewidth { width: 950px; margin-right: auto; margin-left: auto; text-align: left; } #header { width: 100%; margin-top: 0px; border: 1px solid #FFFFFF; overflow: auto; } #leftcell {width: 33%; float: left; border: 1px solid #FFFFFF;} #centercell {width: 33%; float: left; text-align: center; border: 1px solid #FFFFFF; } #rightcell {width: 33%; float: left; text-align: right; border: 1px solid #FFFFFF; } #leftrightbinder {width: 100%; margin-bottom: 30px; overflow: auto; border: 1px solid #FFFFFF; } #left { width: 500px; min-height: 900px; padding: 17px; float: left; border: 1px solid #FFFFFF; } #left p {margin-top: 0px; } #right { width: 375px; height: 100%; min-height: 900px; padding: 17px; float: left; margin-left: 0px; border: 1px solid #FFFFFF; } #right p { color: 1A1A1A; font-family: arial, "sans serif"; font-size: 16px; } #right p a:link { font-family: arial, "sans serif"; } #right p a:visited { font-family: arial, "sans serif"; } #right p a:hover { font-family: arial, "sans serif"; } #right p a:active { font-family: arial, "sans serif"; } A:link { color: blue; text-decoration: underline; font-size: 16px; font-weight: normal; } A:visited { color: #000066; text-decoration: underline; font-size: 16px; font-weight: normal; } A:active { text-decoration: underline; font-size: 16px; font-weight: normal; } A:hover { color: #999999; font-size: 16px; font-weight: normal; } h1 { color: #152D6A; margin-top: 35px; margin-bottom: 45px; font: normal 32px Impact, "Arial Narrow", sans-serif; text-transform: uppercase; text-align: center; clear: both; } h2 { color: #333366; font-family: arial, sans-serif; font-size: 1.5em; margin-top: 20px; margin-left: 0px; overflow: hidden; padding-top: 0px; } h3 { color: #333366; font-family: arial, sans-serif; font-size: 1.2em; margin-top: 10px; margin-left: 0px; overflow: hidden; padding-top: 0px;} p { color: 1A1A1A; font-family: georgia, serif; font-size: 16px; } p a:link { font-family: arial, serif; } p a:visited { font-family: arial, serif; } p a:hover { font-family: arial, serif; } p a:active { font-family: arial, serif; } .arial { color: #000066; margin-left: 5px; font-family: arial, "sans-serif"; font-size: 16px; } .georgia { color: 1A1A1A; font-family: georgia, serif; font-size: 16px; } #pictures { width: 90%; margin: 0 auto; overflow: auto; border: 1px solid #999999; padding: 1%; } .onethird { float: left; width: 28%; padding: 15px; border: 1px solid #FFFFFF; overflow: hidden; } .onethird img { width: 98%; height: auto; } #form { clear: both; width: 98%; margin: 0 auto; text-align: center; padding-top: 70px; border-radius: 1em; border: 1px solid #999999; }
Performance in Primary Duties
Consider the quality, quantity, results, and impact of the Airman's knowledge and ability to accomplish tasks. Initiative/Motivation: Describes the degree of willingness to execute duties, motivate colleagues, and develop innovative new processes.
- Managed datalink equipment; transmitted 6K+ JTIDS messages--maximized CAS requests ISO coalition forces
- Conducted weekly crypto changeover--preserved 100% connectivity between ASOC/45 isolated TACP FOBs
- Deconflicted CAS requests; prioritized msns ISO SOF taskings--facilitated employment of 67 ISAF/OEF msns
- Maintained Link-16 network; provided real-time combat air tracking/picture--99% dependability rate achieved
- Completed repair of cracked 171 support rib; beat estimate by 2 hrs--no defect noted during 7-level inspection
- Repaired cracked F-15E horizontal stabilizer; fabricated/installed repair part--saved $55K in acquisition costs
- Replaced F-15E aileron hinge; transferred holes/installed fasteners; secured primary flt control--acft msn ready
- Trimmed replacement canopy skirt to fit airframe; maintained .070" gap tolerance/contour--returned acft FMC
- Revamped prosaic eval tracking prgm; prcs'd 4K+ evals--streamlined processing time from 30+ to four days
- Led daily insp of 46 vehicles appraised at $3.3M; zero msn delays--peer-voted Veh Op Amn of Month in May
- Supported Team Robins Ops; 5K veh req's/26K PAX/1.9K tons cargo transported--championed 98.9% spt rate
- Quarterbacked trans for 9 NAOC msns; 162 vehs rent'd <24-hrs--ensured critical POTUS/SECDEF comm link
- Key trans for '12 RAFB Air Show; 180K attendees/100 buses shuttled; community/base praised zero incidents
- Piloted trans w/ USA; moved 2 Hueys/$9.4M/delivered 190 mi overnight vs DLA 14 days--saved DoD $10K
- Directed 5 mbr tm; moved UAV/$215M/AF global power showcased--flawless delivery/lauded by ABW/CC
- Organized detail tm for '11 LCAP; prv'd 32 assets in pristine condition--sq earned best ever "Excellent" rating
- Expedited trans of 624 radar domes worth $54.3M--JSTARS assets revitalized--saved AF $1M contract costs
- Oversaw VPP; used 6S process to clean up workcenter/turned-in excess items worth $3.8K--VPP "Silver" site
- Promoted VOCC monthly PME sessions; cemented AF military standards--boosted 19 junior Amn's knowledge
- Cornerstone for AFSO-21 visit; 35 senior leaders chauffeured--LEAN objectives distributed across command
- Delivered trans for MacDill AFB runway repairs; spt 4 KC-135's/79 pax--sustained 6th AMW wing flying msn
- Led weekly formation stand-ups; reinforced/briefed msn success/safety--mishaps down from 3 per mo to zilch!
- Excellent DV spt afforded; chauffeured Congressman Scott for base tour--successful impression of AFRC HQ
- Conducted 23 wrecker operations; recovered 34 tons of cargo--ensured maintenance of 90% msn capable rate
- Sustained equipment section; tracked 1.1K critical supplies weekly--presented w/Veh Ops hard-charger award
- Moved Global Hawk UAV worth $104M; on-time delivery--Delta lauded static displays for "great execution"
- Shared knowledge and expertise; trained 5 Amn in UGT on tractor/trailer/bus--enhanced shift versatility 12%
- Conducted weekly OPSEC inspections; provided for proper disposal of daily SIs--guaranteed AFI compliance
- Provided safe ground trans; moved 129 PAX for 116 ACW deployment--aided coalition force battle space cntl
- Organized logistics for annual Camellia Gardens Ceremony; honored 51 fallen heroes--lauded by 78 ABW/CC
- Safeguarded trans for AF Birthday ceremony; preserved tradition--50 DVs attended/event enjoyed by 700 Amn
- Hauled 3 tons of eq for USA RED DRAGON ex; CBRN skills of 2.5K prsnl honed--coined by MG/Army CSM
- Top-notch Amn; superb professionalism/AF Core Values/warrior ethos--selected as 78 LRS qtrly awd winner
- Resource Steward! Established $100K ADPE act--restored 2 yr dormant prgm/meticulously tracked 90+ assets
- Selected to conduct Remote Access/IP Addressing SAVs; ensured prgms IAW AFIs as prep for upcoming UCI
- Managed movement of official mail to 4K active/guard/reserve pers--met timelines & kept delivery errors<1%
- Sorted over 15K wg's U.S. postal mail/packages; trnsfer time-sensitive DDRP; ensured chain of custody in tact
- Mng'd revision of new sorting procedures--2K pkgs processed/0 errors/100% delivered...seamless transition
- Processed 1.1M+ incoming/outgoing official mail annually; utilized manual & automated sys--100% accurate
- Mng'd NPS PT prgm; tracked/scheduled fit assessments/loaded 100+ scores in AFFMS--over-dues dn by 98%
- Guard/Reserve Exodus POC; processed documents via home units for 182 Amn--100% on-time departure/rtrn
- Org'd ADPE reallocation/turn-in project; reapportioned unused equip to high need areas--returned $75K to AF
- Piloted 19 PT sessions for 370 Amn; pinpointed 7 members for remedial trng--mentored 5 w/in stds <30 days
- Opn'd/tracked >190 ESD tickets; corrected NPS log-in issues/sec clearance delays--saved AF $250 day/Amn
- Led T-shift CQ sfty briefings; ensured entry control/customs & courtesies followed--zero unauthorized entries
- Arranged state flag form; led 50 NPS Airmen in local Mardi Gras parade--praised by City Mayor/TRW CC
- Diagnosed C-17 quantity fault; isolated/replaced probe--completed in 4 versus 6 hr std; acft Code-1 next flight
- Solved C-17 fuel qty anomaly; ID'd 3 chaffed power wires--saved 8 hours down-time/negated in-tank mx delay
- T/S elusive forward tank A/R pump disc; ID'd faulty wiring--acft FMC in 6 vs 24 hrs/saved $1.4K supply asset
- Repaired 8 KC-10 delayed discrepancies; replaced 6 float switches/4 panel o-rings--ensured system reliability
- Replaced inop KC-10 fill vlv controller; acft FMC 2 hrs ahead of std--efforts led to 92% 4 hr fix rate
- Key mbr of KC-10 cell change team; R2'd 3 cells in 114 hrs/crushed std by 54 hrs--leak check good/acft FMC
- Expedited C-17 un-commanded refuel repair; replaced 2 inop surge relief vlvs--crucial AOR deployer on time
- Deployed CTK monitor; maintained/insp'd $550K test eqpmt acct--aced 3 inspections/led to 98% QA pass rate
- Led multi-shop repair of KC-10 aft iso vlv disc; ID'd inop circuit breaker--averted tail swap...promote to TSgt!
- Led security for 11 multi-national conferences; verified 533 clearances/issued badges--flawless entry control
- Indoctrinat'd/train'd 331 personnel on SCI security; increas'd SCI indoc'd members by 15%--max'd mission ops
- Implement'd new automated retrieval process; expedited 15 FOIA requests--ensur'd on time response to taskers
- Detect'd/resolv'd key error in SCI encryption certs; rectified DIA SCI directory listing--assur'd SCI data access
- Deployed to Pacific theater; mx efforts contributed 165 plus sorties--over 1070 hrs--maintained 77% MC rate
- Oversaw repair of 1K+ workstations & printers--pivotal to Balad ECS winning AF "Best Small CS" unit awd
- Authored/completed engineer-sanctioned repair on F-22 composite wg pnl--avoided $65K replacement costs
- Outstanding oversight; process'd $80K in chemicals/75+ haz mat'l items--100% accountability w/"0" write-ups
- Troubleshot flap T/T pressure seal leak in flight--40 PAX airlifted to FOB; ensured 0.3% Repeat/Recur rate
- Unit safety monitor--developed and provided five mandatory briefings; resulted in zero safety related mishaps
- Cleared over 600 records TDY/PCS/separation/retirement/clearances; indentified decrepancies--mission ready
- Dedicated; flawlessly handled 45,552 stons on 4,207 msns w/o incident--vital spt to >20K marines of 1st MEF
- Shipped $#.#M in assets; ### ntwk items shifted to global security upgrade--reduced attk points from ### to ##
- Functional Area Records Manager (FARM) for 47 ofcs of rcrd/provides info lifecycle/FOIA/PA guidance
- Skillfully replaced 11 ALCM turbofan engines; returned $9.6M assets to stockpile--enhanced integrity of fleet
- Briefed current intelligence during internal training--meticulous detail; increased awareness for 60 personnel
- Coordinated 125 sorties with CAOC; mitigated airspace conflicts between US & allied aircraft--zero incidents
- Revised Joint Telework policy and Command Sponsorship Programs; simplified procedures and increased efficiency
- Briefed over 12,000 deploying troops on the tarmac on destinations and expected conditions--enhanced readiness!
- Constructed bulletin board displays; provided 13,000 annual patients with preventive eyecare information
- Dedicated to excellence--orchestrated relocation of clinic's diagnostic equipment--eliminated excessive patient travel
- Increased face-to-face time spent by medical providers with patients by 25 percent; efforts lauded by superiors
- Ensured 100% of assigned tasks completed on time, no continuity loss during multiple leadership changeovers
- Diligent, tirless operator--identified unobserved enemy movement--led to mission generation, success, with no losses
- Responded to over 200 production requests--created over 980 imagery products in support Operation Enduring Freedom
- Resourceful--obtained two scarce regional RMS training slots--saved $7000, increased flight personnel qualifications
- Integral to success of classified joint operation--increased unit's combat effectiveness by 50 percent
New content is posted daily. Check back tomorrow for more examples.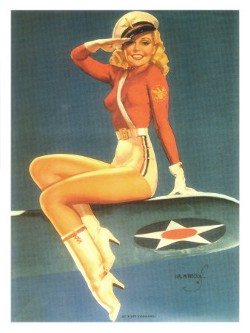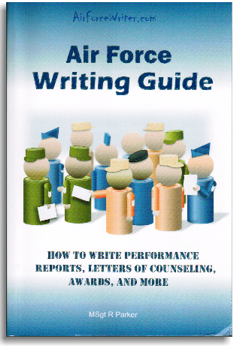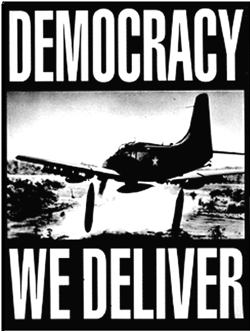 Contact editor@airforcewriter.com Use of website constitutes acceptance of terms