body { background-color: #FFFFFF; font-family: arial, sans-serif; font-size: 16px; text-align: center; } #afwpagewidth { width: 950px; margin-right: auto; margin-left: auto; text-align: left; } #header { width: 100%; margin-top: 0px; border: 1px solid #FFFFFF; overflow: auto; } #leftcell {width: 33%; float: left; border: 1px solid #FFFFFF;} #centercell {width: 33%; float: left; text-align: center; border: 1px solid #FFFFFF; } #rightcell {width: 33%; float: left; text-align: right; border: 1px solid #FFFFFF; } #leftrightbinder {width: 100%; margin-bottom: 30px; overflow: auto; border: 1px solid #FFFFFF; } #left { width: 500px; min-height: 900px; padding: 17px; float: left; border: 1px solid #FFFFFF; } #left p {margin-top: 0px; } #right { width: 375px; height: 100%; min-height: 900px; padding: 17px; float: left; margin-left: 0px; border: 1px solid #FFFFFF; } #right p { color: 1A1A1A; font-family: arial, "sans serif"; font-size: 16px; } #right p a:link { font-family: arial, "sans serif"; } #right p a:visited { font-family: arial, "sans serif"; } #right p a:hover { font-family: arial, "sans serif"; } #right p a:active { font-family: arial, "sans serif"; } A:link { color: blue; text-decoration: underline; font-size: 16px; font-weight: normal; } A:visited { color: #000066; text-decoration: underline; font-size: 16px; font-weight: normal; } A:active { text-decoration: underline; font-size: 16px; font-weight: normal; } A:hover { color: #999999; font-size: 16px; font-weight: normal; } h1 { color: #152D6A; margin-top: 35px; margin-bottom: 45px; font: normal 32px Impact, "Arial Narrow", sans-serif; text-transform: uppercase; text-align: center; clear: both; } h2 { color: #333366; font-family: arial, sans-serif; font-size: 1.5em; margin-top: 20px; margin-left: 0px; overflow: hidden; padding-top: 0px; } h3 { color: #333366; font-family: arial, sans-serif; font-size: 1.2em; margin-top: 10px; margin-left: 0px; overflow: hidden; padding-top: 0px;} p { color: 1A1A1A; font-family: georgia, serif; font-size: 16px; } p a:link { font-family: arial, serif; } p a:visited { font-family: arial, serif; } p a:hover { font-family: arial, serif; } p a:active { font-family: arial, serif; } .arial { color: #000066; margin-left: 5px; font-family: arial, "sans-serif"; font-size: 16px; } .georgia { color: 1A1A1A; font-family: georgia, serif; font-size: 16px; } #pictures { width: 90%; margin: 0 auto; overflow: auto; border: 1px solid #999999; padding: 1%; } .onethird { float: left; width: 28%; padding: 15px; border: 1px solid #FFFFFF; overflow: hidden; } .onethird img { width: 98%; height: auto; } #form { clear: both; width: 98%; margin: 0 auto; text-align: center; padding-top: 70px; border-radius: 1em; border: 1px solid #999999; }
Performance in Primary Duties
Consider the quality, quantity, results, and impact of the Airman's knowledge and ability to accomplish tasks. Initiative/Motivation: Describes the degree of willingness to execute duties, motivate colleagues, and develop innovative new processes.
- Performed 180-day inspection on 2 tool kits/1200+ items; ID'd 15 deficient tools--corrected 2 inventory errors
- Repaired cracked F-15E vari-ramp longeron; beat repair estimate by 4 hrs--saved $111K in replacement cost
- Evaluated cracked intake; fabricated/installed non-flush patch--eliminated possible FOD to $3.8M acft engine
- Fabricated 17 hydraulic lines; utilized blueprints/samples for first time fit; averted $40K in procurement costs
- Removed/replaced 36 F-100-229 augmentor boss seals; returned asset to service condition in 6 vs 12-hr ETIC
- Fastidiously corrected discrepancies in special needs pass issuance; led to key reduction in processing time
- Identified escort shortfall/encoded 25+ SCI facility badges; single-handedly prevented operation impediments
- Expeditiously detained armed driver under influence during patrol; protected safety of installation roadways
- Promptly responded to accidental shooting/provided first aid to victim; selflessly ensured victim survival
- Flawlessly processed/suspensed 1100 enlisted/officer performance reports; reduced AFPC return rate by 90%
- Processed decorations for 75 inbound/outbound mbrs; validated tracking log--100% accountability ensured
- Drug Demand Reduction Prgm Facilitator; notified/tracked 300 selectees--strict enforcement of high vis prgm
- Overhauled Grp BAS/SIK prgm; processed 25 requests w/FSO--secured mbrs $2K in overdue entitlements
- Aided in success of (Base) Air Expo '11; 170K+ guest/102 unique acft/mishaps adverted--airpower showcased
- Outstanding! Responded to aircraft bird strike; mitigated hazard; enabled wing aircraft to depart without delay
- Expertly processed 49 DV arrival/departure checklists during CAPSTONE Conference; ensured event success
- maintained Airfield Status page used to track airfield status; availability guaranteed for over 15 users
- Monitored $19-million airfield construction project; performed over 40 spot checks; flightline safety secured
- Coordinated acft arrival for fallen soldier ceremony at Offutt; provided proper final respect for fallen soldier
- Handled 42 indoc assists for other commands/services; quick reciprocity on A2 requests...reinforced relations
- Developed Foreign Travel Brief; provided actions to mitigate becoming a victim...bolstered individual safety
- Instituted suspense system for debriefs thru vMPF; reduced admin debriefs by 100%...seamless out-processing
- Validat'd 219 personnel accesses for Ex BLUE FLAG; eased badge issue...no lapse in access/on-time schedule
-Coor'd jobsite safety pgms; ensured 100% compliance--critical to $251M PACAF Regional Trng Ctr build up
-Directed K-span construction ops for ORI; flawlessly executed proj tasking--garnered "Outstanding Team" awd
-Managed 6 man crew; applied 10K sq ft of spray insulation in 2 buildings--saved $22.5K over contractor cost
- Processed 391 issues/backorders value $1.4M; quick replenishment averted mx delays in support of OUP/OUD
- Monitored master storage plan; scrutinized 160 bldg charts for 11.8M items; validated 713K sq ft usable space
- Performed movement card quality control insps; screened/inspected 1K documents; ensured document accuracy
- Oversaw Records Management program; filed/maintained 22 continuity books; guaranteed 100% compliance
- Inspected and maintained 148 assigned vehicles; increased in-commission rate by 20%; kept fleet war ready
- Deployed OML lead of four technicians; verified 500 data entries--contributed to 553 successful F-22 sorties
- Orchestrated nine residue turn-ins to DRMO; certified safe munitions scrap for resale--returned $38K to budget
- Evaluated flap rub on red ball--transported 50 pax and USO DV's to FOB; 1,479 vehicles removed from road
- Managed A/C mx/supply assets; coordinated downtime/fixed 15 discrepancies--A/C TNB parts slashed to zero
- Maintained $150K worth of test equipment; assured proper calibration standards; ensured equipment readiness
- Invaluable Airman; critical part of maintenance team--stellar support of 26 MRC-144s and 124 portable radios
- Performed 94 portable radio inspections; corrected problems on the spot--ensured wartime combat readiness
- Processed 215 technical evaluations; ensured unit compliance/quality--completed 97% of required evaluations
- Adjusted customer service hours to meet needs; eliminated most common customer complaint, increased CSS access, training
- Exceptional shift leader--Led shift in correction of over 500 sensor pod and 300 support equipment discrepancies
- Managed 20 personnel workcenter in direct support of U.S. Space Command--exceeded all assigned goals!
- Isolated Terrestrial Critical Communications Circuit (TCCC) outage to loss of crypto synchronization; reloaded keying material; restored communications circuit before circuit was logged out by technical controllers
- Created database/tracked ventilation equipment in two hundered facilities--improved air quality/production
- Supervised repair of air conditioning at Air Force Network facility; protected $2.5M in critical equipment
- Scheduled course dates for officer and enlisted military members to attend--maximum use of available slots
- Repaired TISEO, PAVE SPIKE pods, PAVE TAC pods--maintained in peak operating condition
- Scheduled over 2,100 items with 100% accountability--critical single-point contact for 3,000 units in AOR
- Validated/scrubbed 122 PMEL accounts; overcame personnel rotations--restored vital oversight
- Superbly processed 2.5K air transportation documents--streamlined $1.5M in carrier payments on 4K flights
- Brainstormed intelligence and technology integration efforts for several new platforms including unmanned vehicles
- Provided full range of on-demand cryptologic support, tailored SIGINT advice and assistance to high profile CJCS mission
- Maintained the section's vehicles and over $900K of electronic and specialized equipment
- Developed new research methodology--improved the accuracy and timeliness of reports by 25%
- Scheduled both recurring and emergency maintenance on work center equipment--ensured data on target at 99% rate!
- Traced intercom system outage affecting the UHF and VHF radio systems to grounded headset--prevented mission scrub
- Key member of Benson fuel tank TCTO crew; installed 20 fuel disconnects; 180-day TCTO slashed to 30 days
- Reacted quickly under pressure by reprogramming C-5 display unit on divert acft; $120K flight computer saved
- MX expert who rebuilt interphone cord; 90 min fix accomplished in 30--82 pax & 12 cargo tons moved to Iraq
- Discovered KC-135 cell pinhole leak; applied patch--eliminated depot requirement, $10K in repair cycle costs
- Utilized existing equipment and spare parts to assemble rack--saved work center $3K in material costs
- Provided twenty-seven officers and SNCOs convoy training prior to short-notice deployment; ensured saefty
- Constructed display bulletin boards; provided 13,000 annual patients with preventive eyecare information
- Trained 12 newly assigned personnel on CERE procedures--significantly enhanced war-fighting abilities
- Processed thousands of AUTODIN messages at Base Communications Center--accuracy rate over 99%
- Volunteered to perform visual tests at local elementary school--guarded health of over 250 students
- Revised examination procedures for aircrew members--incorporated low light requirements--ensured mission readiness
- Networking guru who's connected all over VAFB; able to get the troops what they need without delay
- Compiles detailed after-action reports which shape future deployment strategies throughout the entire USAF
- Developed, tested NATO Integrated C2 software; identified many compatibility issues, provided solutions
-- Reduced unauthorized security accesses by 75%, provided improved C2 infrastructure ahead of schedule
- Perfectly controlled 1200 deployed troops; ensured safe operating environment and achieved all objectives
- Dedicated to excellence, orchestrated relocation of clinic's equipment,eliminated excessive patient travel
-- Increased face-to-face time spent by providers with patients by 20 percent; efforts lauded by superiors
- Ambitious Airman; completed 4 CDC volumes 2 months ahead of schedule; maintained outstanding 94% VRE
New content is posted daily. Check back tomorrow for more examples.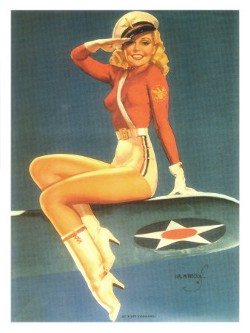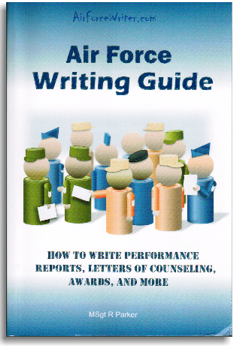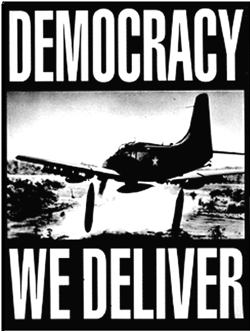 Contact editor@airforcewriter.com Use of website constitutes acceptance of terms