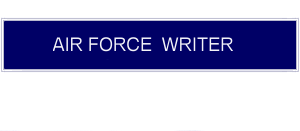 Performance in Primary Duties
Consider the quality, quantity, results, and impact of the Airman's knowledge and ability to accomplish tasks. Initiative/Motivation: Describes the degree of willingness to execute duties, motivate colleagues, and develop innovative new processes.
- Led EFB update process; enabled digital transfer of 90 epubs for 180 aircrew--improved in-flight capabilities
- Oversaw testing/FCIF library/pubs for 180 aircrew; org'd 35 FCIFs & 18 TOs--ensured 100% reg compliance
- Outstanding performer during 379 EOG SAV; managed planning for 180 aircrew--recognized by OG &Sq CCs
- Implemented Sqgnd/flight safety plan for 180 deployed prsnl--enabled ATO execution/98% msn effectiveness
- Supervised aircrew arming & accountability; ensured safe handling of 44+ wpns--$20K assets 100% secured
- Led AFE MX scheduling; planned swap ops of 168 chutes/kits on 21 aircraft--zero delays on daily flt missions
- Provided AFE main section oversight; focused on UTC/Oxygen/Chem sections--all CUI '12 findings closed out
- Configured 3 C-130 acft; loaded/upgraded 381 pcs of eqpt--ensured 100% mission rdy ISO OIF/OEF/HOA

- Secured/maintained $2M aircrew/acft life spt eqpt; ensured 400 sorties/600 flt hrs; Wg airlift capabilities met
- Revamped 3 AFE programs; revised outdated Helmet/FERMS/QA shop stnd--saved 2 man-hours daily insps
- Pioneered flight section advancement process; reconfigured ready-line sys--enhanced eqpt storage space 25%
- Performed 11 record searches in 80 offices; assisted in AF legal cases/litigations--maintained unit compliance
- Corrected SharePoint error; identified/corrected 90 security/privacy act vulnerabilities--prevented $450K fine
- Supervised five AF Portal/48 SharePoint sites; 23 publications/OIs processed--100% accuracy and timeliness
- Coordinated CC calls/awards ceremonies; CC's vision relayed to unit/Amn recognized--bolstered unit morale
- Managed personnel system; built/processed over 600 eval sites--guaranteed security of sensitive personal info
- Monitored/reallocated 17K non-complaint Rxs for re-use; annotated 4.2K patient profiles; saved Gp $280K/yr
- Executed daily narcotic inventories; secured 74 items/$53K value; 100% accountability--zero errors/diversion
- Tracked cntl'd area access for 98 staff--secured $24M in drugs/eqpmt; poised against potential security breach
- Enforced FDA recall; independently removed 120 inefficacious drugs from 30 wards/clinics; averted pt harm
- Assisted w/narcotic RIE; severed 10 steps, added 25 prepacks; decreased controlled Rx processing time 33%
- Devoted preceptor; fully indoctrinated 4 staff mbrs at Bx pharmacy procedures; reduced NCO tng load by 75%
- Singlehandedly inspected 30 crash carts; maintained 100% in-stock rate; ensured availability of 1K emer drugs
- Adherent to TJC's NPSG; ID'd/relabeled 25 high risk/alert medications; virtually eradicated dispensing errors
- Committed to 0-0-1-3 concept; devoted 10 hrs to AADD--responded to 10 calls; zero DUIs; saved lives/career
- Finished WPC/RO 120 hrs of trng; advanced expertise for juggling AF's 225 2F0X1s w/CCDRs rqmts
- Polished public speaking skills; led NCOPE SNCO Panel Leadership/Mgnt skills seminar; re-blued 40 Airman
- Coord'd w/five wgs & AFPC supporting COCOM rqmts--averted two reclamas/verified 58 wartime taskings
- CMD POL readiness SME; researched/P-coded 5 Wg's POL assets; assured 6 CCDR Bomber logistics rqmts
- Facilitated out of cycle IMA request; secured $100K, backfilled 1,300 deployed man hrs; averted msn failure
- Organized 1990 Oil Pollution Act rqmts; established cmd policy; assured asset security/compliance 100%
- Rectified USSTRATCOM OPLAN rqmts; alerted invalid fuel level--validated 100K gal IMP discrepancy
- Primary advisor to high-profile DVs; orchestrated 12 AF/CC & Rep Neugebauer visits--lauded by 7 BW ldrsp
- Led mortuary team of 6; processed 4 Afgan nationals remains w/in 24 hrs--ensured adherence to local customs
- Engineered FAC transition plan; devised time saving testing schedule--potential to save AF 156 man hrs Qtrly
- Performed timely repair and extended life on $1.1M worth of equipment--saved AF $12K in maintenance fees
- Afforded excellent customer service 38K patrons/mthly; 97% satisfaction rating best in ACC--#1 of 12 bases
- Led 25 "Back-2-Basics" for 30 Amn weekly; created specialized strength classes--3/3 prior failures pass rate
- Superior performer of the month 7 BW; Coined by 7 BW/CC--sets example for all Airmen--#1/7 NCOs
- Supported fire protection for 2K pers/$4.5B acft/infrastructure; ensured ISR Ops/delivery of 35% AOR's fuel!
- Perfect score! Meticulously tracked mission critical training/records for flight; 100% ready--no discrepancies
- Provided C2 for fuel spill on C-130; directed diversion of spill from 21K drain sys/eliminated environment haz
- First Aid First Responder training program mgr; ensured training for 79 pers--brought national certs up by 20%
- Inventoried 174-items/$125K ITEC account for tech refresh; assets accounted for/upgraded--zero UCI findings
- Baselined 16 critical SCI contracts; organized industrial security files--100% accountability of 177 contractors
- Led security effort for two command conferences; briefed 154 personnel--facilitated A3 strategic ops planning
- Joint Inspected 232 tons cargo/8 chalks for 615 CRW/60 AMW exercise--crucial training/ORI prep achieved
- Managed Pallet & Net Prgm; used GART sys to rpt assets to AFMC--accounted for $195K in 463L pallets/nets
- Led resurgence of 62-mbr flight during NCC OIC's absence, delivered 99% reliability on $30M base network
- Key to finalized $500K uninterrupted power supply project--developed network restoral plan for 5000 users
- Integrated maint control/helpdesk; centralized 24/7 comm focal point; authored JQS/closed 300 work orders
- Implemented base-wide use of AF Portal website; met AF mandate; users 'single password' concept realized
- Responded to call to run DRCC during personnel shortage for tsunami relief effort; setup comm/admin support
- Launched remote patching of 200 machines; complied with eight PACAF directives; first 'green' in 140 days
- Set long-range C2 training plan; qua1ified 15 personnel this quarter; fast-tracked crew position readiness 75%
- Rejuvenated use of customer service database--500 new tickets yielded superb trend and deficiency analysis
- Streamlined EPR/decs process; designed/implemented tool to track reports; reduced late suspense's by 60%
- Directed command/control software upgrade; beat PACAF deadline by 3 weeks; successful in March ORE
- Consolidated four ADPE accts; $350K excess computer equip available to unit; manager liability down 40%
- Out-front leader; initiated ATSO training for 50 personnel during ORE; kept discrepancies small; EET praised
- Revived flt awards pgrm; instructed 82 on writing techniques for "whole person concept"; 1st win in 8 months
- Direct oversight of 3-man Special Actions team--assisted Scott AFB mbrs w/ special mil/tvl pay & debt needs
- Oversaw processing of 400+ payment & collection vouchers worth >$3.2M in Centralized Disbursing System
- Bolstered e-commerce in AOR; processed $558K+ in vendor & $98K in SDP deposits w/ Eagle Cash system
- Tackled 840+ CMS cases w/ MPF & base agencies to drastically reduce no. of stagnant cases >5 days to zero
- Troubleshot/repaired gen fuel pump; restored emergency pwr to NAVAID site--sustained busiest USAFE rwy
- Organized preps for MLG bow beam crack repair--ensure timely return of ACFT to FMC; 2,457 sorties flown
- AMC Humanitarian; directed gnd spt on 31 msns ISO Pakistan Relief efforts--eased suffering for 13M+ people
- Directed 4 hrs equip spt w/o delay for Nuclear Detonation Detection msn--locked Test Ban Treaty compliance
- Meticulous attention to detail; orchestrated the transfer of over 6000 pieces of classified ; 100% accountability
- Deployed superstar! Safety NCOIC of EAMS, ensured safe movement of 77K passengers/80 million lbs cargo
- Diligent, tireless operator--identified scheduled enemy movement--led to mission generation, success/no losses
- PACAF's '12 SF Flt lvl Amn of the Yr; selected over 1.4K Amn--exceeded standards/inspired peers/AF icon
- Vanguard of all SFS Amn; consistently outshines/exceeds all of his peers--selected as SrA "Below The Zone"
- Standout SrA w/fortitude to accomplish any task assigned; catalyst of flt winning 2x SFS Flt of the Qtr honors
- Chosen ahead of peers as "Arclight Defender of the Month" awd; recognized as top performer--coined by CC
- Hand-selected for AAFB's first-ever gate section; forged new standard of excellence--praised by PACAF/CC
- Trained/mentored eight Amn for duty position evals; overall 96% flt average--contributed to 100% pass rate
New content is posted daily. Check back tomorrow for more examples.