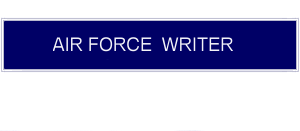 ADDITIONAL RATER'S COMMENTS
Consider Overall Performance.
- Key to $15K construction project; secured aircraft critical zone coverage--eliminated 4-yr flt safety hazard
- Led ** CS/**** AB ATSEP prep; certified $7.9M Airfield System complex--garnered 97.8% compliance rate
- Managed $10K ground marker install; averted 4 write-ups--vital to 31 FW AOCI "Excellent" rating; TSgt now!
- Unsurpassed SNCO/leader; extremely dedicated to personnel/mission--do not hesitate to promote first board!
- Driven and goal oriented SNCO--completed SNCO Academy correspondence course w/impressive 94% avg
- Stellar Airman leads by example; ready for more; invaluable asset to Special Operations msn--BTZ is a must!
- Positive vision of the unit's goals and conveys a clear understanding of how to accomplish the mission
- Assisted Jet shop w/2nd ever RC-135 engine change in AOR; HD/LD asset returned to GWOT--promote now!
- Determined/focused Airman; performance driven with unlimited potential--promote to SSgt at first opportunity
- Motivated/talented assistant; can be counted on to accomplish assigned duties/responsibilities--promote now!
- Demonstrated strong work habits and values; capable of greater responsibility/maximum growth--promote now
- Exhibited profound sense of pride, professionalism and core values in all endeavors--promote ahead of peers!
- In numerous key capacities, contributed to the success of the Wing's demanding global mobility mission
- Standout amongst peers! Selected as Det ## NCO of the Qtr, 3d Qtr 05 for superb leadership/job performance
- Directly contributed to Det ## earning the 2005 USAFE Outstanding Aerial Mail Terminal of the Year Award
- My number one Mobility line troop--Can always be counted on to insure compliance with requirements
- Outstanding NCO! Achievements key to site winning 2006 CE Support Center of the Year--#1 of 29 sites
- Dependable, motivated, and trustworthy--a SNCO with the courage to manage without visible support
- Excelled as Facilities Superintendent for over 60 days during incumbents absence
- #1 of 597 38 CSW Airmen! Won Airman of the Quarter for 3rd Qtr 2006--sets standard for a true professional
- Managed 133 personnel in 4 demanding shops: Housing Maintenance, Vertical, HVAC & Horizontal
- Highly reliable, indispensable member of our team; well trained and knowledgeable on satellite equipment
- Highly qualified NCO; pivotal in uptime rate of over 99% on all strategic links; exceeded DISA standards
- Recent Airman Leadership School graduate; earned the John L. Levitow award. Ready to promote.
- A true professional who's always in the middle of our most critical processes--promote immediately!
- Good performer, accomplished tasks with minimal supervision; works well with peers; promote (4 rating)
- Confident and dependable, quickly becoming an integral member of the workcenter. Promote.
- A welcome new addition to the FORSCOM workcenter, an airman with potential. (4 rating)
- Supervises two airmen; both are ahead of their peers in Career Development Course completion. Promote.
- Maintained 100% operational capability and accountability of $25 million worth of equipment--increased unit readiness
- Designed training program that improved the skills of subordinate observation teams resulting in a 33% increase in capabilities during operations
- Exceptional Patient Administrator committed to successful completion of all assigned tasks-promote with peers
- An exceptional NCO and capable leader; performed duties as jet engine mechanic in an outstanding manner
- Demonstrated outstanding engineering skills and maturity--exceeded standards in a complex environment
- Excellent technical abilities; motivated and self-confident airman; consistently performs high quality work
- Driven SNCO with outstanding results. Continue to entrust with increasing responsibility--Promote now!
- MSgt Baker is enthusiastic, dedicated SNCO--quickly transitioned from maintenance background to staff
- Great technician; knowledgeable on all workcenter communications systems; promote
- Outstanding NCO. Crisp military bearing and appearance. Exceeds standards in military courtesies, fitness, and job performance
- Took command with ease; completed over 450 scheduled work requests; supervised 11 military/12 local national employees
- POC for Wing's monthly promotion recognition ceremony--first-class program recognized 120 Airmen on base
New content is posted daily. Check back tomorrow for more examples.