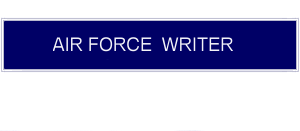 Followership Leadership EPR Bullets
Resource utilization (e.g. time management, equipment, manpower, and budget): Consider how effectively the Airman utilizes resources to accomplish the mission. Complies with/enforces standards: Consider personal adherence and enforcement of fitness standards, dress and personal appearance, customs and courtesies, and professional conduct. Communication skills: Describes how well the Airman receives and relays information, thoughts, and ideas up and down the chain of command (includes listening, reading, speaking, and writing skills); fosters and environment for open dialogue. Caring, respectful, and dignified environment (teamwork): Rate how well the Airman selflessly considers others, values diversity, and sets the stage for an environment of dignity and respect, to include promoting a healthy organizational climate.
- Revamped Breast Cancer prgm; audited 500 pt records/created tracking list; 12 mo back log corrected in 3 mo
- Led ALS class of 13 students; set tone/example for peers to follow; earned DG honors at graduation ceremony
- Oversaw COMSEC inspection; audited 80 cryptographic items--maintained 100% accountability & zero errors
- Spearheaded growth of VIP team; supported 100+ GO/FOs; instant hit--mbrs collected over 37 coins this year
- Lightning Strike Force team mbr; inspected 10 dormitories--highlighted residents' issues to 355 FW leadership
- Unit promotion ceremony lead/quarterly & annual awards board member--recognized 12 mbrs accomplishments
- Managed SABC prgm; oversaw trng rqmt's for 12 pers--guaranteed sq mbr's ready for emergency/wartime ops
- Attended 3 professional development classes; sharpened communications/leadership/management skills
- Faltered in hospital mission; failed in timely response to 3 urgent care clinic requests; patient care suffered
- Contributed XXX hours to base Airman Against Drunk Driving; mitigated incidents over holiday weekend
- Volunteered free-time to local middle school bake sale; raised $1K towards essential learning materials/books
- Aggressively enforced AF COMPUSEC program standards--eliminated 98% of government computer misuse
- Stellar professional; above & beyond peers with consistent, outstanding duty performance--coined by 9 AF/CC
- Exceptional NCO! Spends many hours per month mentoring & supporting youth w/Angels 4 Christ Foundation
- Example for others! Flawlessly displayed AF Core Values and Standards, earning FTAC Sharp Airman Award
- Donated one dozen canned goods for winter 2010 family outreach--boosted AF image/strengthened local ties
- Ensured validity of critical Go/No go items for 104 aircrew members; assured zero discrepancies of flt data
- Assisted Chief Kolbaum as Amn mentor; helped raise awareness in SNCO tier on how to asst amn with issues
- Monitored 81 ground trng events; reduced overdues by 18%--ensured 120 aircrew members were msn ready
- Dedicated two hours to ACDC NCO mentoring session with young airman; encouraged AF career advancemnt
- Combat dining in program planner; organized 15 indoor/outdoor events; improved morale for 250 EMEDS staff
- Promoted Air Force heritage & tradition; volunteered to take part in 5th MSG CoC ceremony--example to all
- Wrote 9 corrective action; enforced AF standards for 6 Airmen--forming future leaders with proper mentorship
- Role model; supported local church/family; sheltered four troubled youths for two weeks--family bond intact
- Donated five pints during Red Cross blood drive...aided war effort/deployed US service member life saver
- Advocated Adopt a Family Prgm; collected home/school supplies for needy family...forged US/Japan relations
- Performed as proffer; professionalism provided dignity to ceremony--honored retiree's 21 years of mil service
- Selfless! Dedicated >28 hrs to local elementary school & Strange Folk Fest; fostered base/community relations
- Trained 2 new sentries & performed three 375 AMW HR missions--guaranteed proper respect for fallen heros
- Supported Arabic cultural bazaar; Secured 22 vehicles/35 TCNs; Ensured safe event for AASAB personnel
- Vital to AFAF 100% contact/464 sq pers--Wg net $125K/smashed $96K goal; vol'd F-22 ceremony & 2 CoC's
- Phenomenal leader/technical expert; staged A+/SEC+ Bootcamp class; 20 airmen trnd/certified--promote now!
- Volunteered 3 hrs for Misawa City Port clean up; extracted 10 tons of trash--improved local relations
- Excellent speaker! Served as proctor; briefed two DVs--coined by USAFE A6 Director of Comm
- True wingman; AADD program vol; dispatched and chauffeured--provided ## mbrs safe rides home
- Ready to deploy on short notice, to meet any contingency, anywhere in the world.
- Inexhaustible commitment and determination, he provided sound leadership to 30 Airmen, 5 civilians while providing quality support services to medical service providers; accomplished total joint service initiatives and AF mission
- Exceptional NCO; superb military image made him the obvious selection for NCOIC of the unit Honor Guard
- Helped renovate the Airman Leadership School living spaces--excellent example for peers
- Hand-picked to instruct 50 students in advanced Installation Defense skills at the Joint Readiness Training Center
- Displayed exceptional pride in personal image, wears immaculate, inspection-ready uniform at all times
- Solved many housing, medical, & personnel issues for members; cornerstone of our team, taking care of Airmen his top concern
- Selected as top performer of the month for May, 2009; displayed exemplary leadership and professionalism
- SSgt Jones developed, maintained an intensive PT program that improved morale and reduced the annual failure rate by over 50%!
- Attended annual Air Force Ball--positive conservator of Air Force culture in a joint environment
- Made breakfast burritos for squadron booster club, resulting in over $200 profit for squadron
- Dynamic leader; proven track record of maintaining and enforcing PACAF standards of conduct
- Peerless uniform and appearance; adheres to AFI 23-201--sets example for peers and subordinates
- Top Airman! Selected as the 321st Missile Group "Airman of the Quarter" for the second quarter 1995
- Star performer! Received only stripe available from 333 MG/CC for STEP promotion to Staff Sergeant
- Maintained an impressive 100% fully mission-capable rate for Aug 06; shattered AETC standard of 80%
- Hand-selected to perform security for high profile mission in direct support of ENDURING FREEDOM
- Devoted many hours of off-duty time to ensure the unit's training requirements were met--unselfish
-- All shop trainees fully qualified in minimum time--significantly improved section's effectiveness
- Superior war fighter--recognized by Exercise Evaluation Team members as Superior Performer in the May 2004 Initial Response and Readiness Exercise (IRRE) and Combat Employment and Readiness Exercise (CERE)
- Standards and professional competence generated immediate confidence/improved subordinate morale
- Emceed at Chief Enlisted Manager's farewell as acting First Sergeant; ensured proper send-off
- Organized base-wide golf tourney benefiting Armed Forces Retirement Home; fundraiser netted over $1500
- Co-organized base Top-3 weekend golf tournament; great morale booster for base
- Dedicated professional who continues to develop future NCOs as a member of the SF Mentorship Program
- Trained four elements in preparation for Global War on Terrorism deployments
- Created and implemented an innovative Career Development Course status chart--ensured all troops in upgrade training were ahead of schedule--99% pass rate on all End of Course exams
New content is posted daily. Check back tomorrow for more examples.