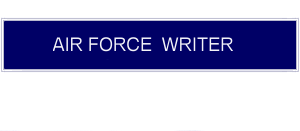 Followership Leadership EPR Bullets
Resource utilization (e.g. time management, equipment, manpower, and budget): Consider how effectively the Airman utilizes resources to accomplish the mission. Complies with/enforces standards: Consider personal adherence and enforcement of fitness standards, dress and personal appearance, customs and courtesies, and professional conduct. Communication skills: Describes how well the Airman receives and relays information, thoughts, and ideas up and down the chain of command (includes listening, reading, speaking, and writing skills); fosters and environment for open dialogue. Caring, respectful, and dignified environment (teamwork): Rate how well the Airman selflessly considers others, values diversity, and sets the stage for an environment of dignity and respect, to include promoting a healthy organizational climate.
- Led four mbr tiger team; inspected 21 acft/corrected 65 deficiencies--anchored Aug 13 ORE/ATO met on-time
- Set-up 2 Op Yellow Ribbon events; provided 200 meals/worked 7 hrs--supported 153 deployed mbrs/families
- Supported Base POW/MIA ceremony; transported equipment--allowed 111 guests & 17 DVs to pay respects
- Top Airman! Selected as the 321st Missile Group "Airman of the Quarter" for the second quarter 1994
- Selected as top performer of the month for June, 2002; displayed leadership, professionalism
- Co-chaired "Operation White Christmas"; planned, organized entire program—raised over $17,000 for families
- Highly skilled technician; often relied upon to complete numerous difficult jobs with minimum supervision
- Currently enrolled in Organizational Management; increased supervisory skills
- Best in command! HQ AFSPC's "Financial Management Specialist of the Year" for 1994
- Mature leader; won't compromise standards, enforced highest AETC standards of conduct
- Established top rapport as NCOIC and positioning for superintendent--contingency and ancillary
training effectiveness ratings were consistently highest in the squadron--highly effective leader
-- Virtually eliminated late or no-show reports for training--herculean effort made to look easy
- Dedicated health provider; chosen as AMC Enlisted Health Services Management NCO of the Year 06
- Energetic in administrative duties; monitored key flight functions and openly accepted additional details
- Performed as observer/controller during five USAF XXX exercises; key to overall success of SF assessments
- Selflessly volunteered time with the Airmen Against Drunk Driving campaign; ensuring 100% safe transport
- Participated in the Livestrong Foundation Bike-a-Thon raising over $5,000 dollars for cancer research
- Selected as squadrons SNCO of the Quarter, first quarter 2004--impact on the mission was key to success
- Served as Secretary, Kaiserslaughtern German-American Association--good community ambassador
- Hand picked CSW Airman! Won Airman of the Quarter third Qtr 2006--sets the standard for a true professional
- Infallible standards of dress/appearance with positive attitude--perfect representation/model for peer emulation
- Briefed 60 CSAs from 5 grps on VPN upgrade; vital info disseminated--smooth transition for tier one custmers
- Escorted families at Black Hills National Cemetery; honored fallen comrades; enhanced public AF relations
- Revitalized 12 drogue/drag chutes--repaired suspension lines/canopies--saved AF $564K in replacements cost
- Infallible standards of dress/appearance with positive attitude--perfect representation/model for peer emulation
- Selected over peers to represent unit in several high-visibility ceremonies; an example to peers
- Superior military image led to selection as the USAF representative during the XXX tree lighting ceremony
- Hand-picked to instruct 50 students in advanced Air Base Defense skills at the Joint Readiness Training Center
- Exceptional NCO; superb military image made him the obvious selection for NCOIC of the unit Honor Guard
New content is posted daily. Check back tomorrow for more examples.