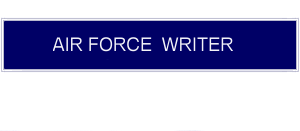 Whole Airman Concept
Air Force Core Values: Consider how well the Airman adopts, internalizes, and demonstrates our Air Force core values of Integrity First, Service before Self, and Excellance in All We Do. Personal and Professional Development: Consider the amount of effort the Airman devoted to improving themselves and their work center/unit through education and involvement. Esprit de corps and community relations: Consider how well the Airman promotes camaraderie, embraces esprit de corps, and acts as an Air Force ambassador.
Epitome for training technicians regarding separation and retirement process to take reins prior to deployment
Exemplified honor/tradition; participated in retirement ceremony as DV escort--flawless service enjoyed by all
- Oustanding NCO; unparalleled expertise and vital contributor to 5 FLOTUS missions; elite records manager
- Volunteered for AADD; contributed eight hrs to prgm/provided six Amn a safe ride--potential injuries averted
- Volunteered to proffer ceremony at grp CC Call--flawless action led to deserved recognition of award winners
- Civic minded; participated in Red Cross blood drive--replenished precious blood for over 174k AD members
- Vol'd for CAFB's "Pumpkin Patrol"; augmented Security Forces security efforts--ensured safety of 682 children
- Coached soccer team, 22 local children; provided 20 hrs of instruction/teamwork--boosted comm/AF relations
- Contributed four hours to base blood drive; assist collection of 150 sample units--expanded mission capability
- Dedicated to unit improvement; quickly ID'd/procured critical materials and essential CP operations equipment
- Exceptionally well organized; engineered tracking database for official correspondence--85% of suspenses met
- Trained photographers in HDR photography; 3hrs of intensive technique and critique--increasing job creativity
- Conducted/participated in 3 AD Retirements; recognized <20 yrs service--properly displayed esprit de corps
- Worked w/medical/firefighting personnel; staged head injury...honed MARE response/lauded as huge success
- Vol'd 8+ hrs; remodeled HAFB motocross track/installed bumper pad...improved safety/prevented accidents
-Served as proffer at promotion ceremony; 35 airmen recognized, 150 guests attended--ensured event success
- Morale engineer! Designed/built tent privacy walls; allocated 68 sq ft/Amn--huge QoL boost for 73 deployers
- Superior mentorship shown in deployed location to FP airmen; motivating pers personally and professionally
- Dedicated; abruptly completed 86/86 OJT tasks--accomplished all requirements 2 months ahead of schedule
- Partnered w/Public health food facility team; saved $95K food loss from infestation--protected 16K base prsnl
- Instrumental in Air Show success; spray'd herbicide/8K sq ft area; set up & tore down tents--80K enjoy'd event
- Orchestrated flawless ACC A8 summer picnic--efforts promoted team camaraderie--morale at all time high
- Model Wingman; responded to MDG appeal for blood donors; contribution will save OIF/OEF warrior lives
- Served as Sq PTL; worked w/fellow Amn to raise average PT score 10 pts; Sq better prepared for deployment
- New NCO, took control of training/operation plans, all programs compliant lead to squadron's "Excellent" rating
- Performed flag detail for retirement ceremony; recognized 20 years of faithful service--team member honored
- Volunteered to set up tents for annual volksmarch--support integral to success of yearly event
- Trained two fiber splicing teams, installed Wing crisis action tng networks; saved AF $1OK+ in TDY costs
- Revived and revised the retirement ceremony program; documented, streamlined process, raised support to 100%
- Led tank reseal team; reduced fuel leak delayed discrepancies to 0.6 per aircraft--bested MAJCOM goal by 80%
- Displays exceptional leadership qualities; ability to get the job done; recommend promotion/retention
- Motivated team player; contributed off duty time and effort to support unit's self-help project--saved est $15K
- Solid performer; displays exceptional leadership qualities /abilities--recommend promotion soonest
- Increased equipment readiness to 98%--10% over unit's score last year!
- Key member of antenna TCTO project; upgraded 14 satellite antennas; 180-day TCTO slashed to 90 days!
- Reviews regulations constantly; sharpens knowledge while providing an honest service to all AMC travelers
- Spearheaded youth/adult annual football game--improved morale for familys/Team Hill's military members
- Troops First Attitude, constantly striving for more training, sets the standards for improvised training methods, making sure that the XXXX shop is the best trained group in Civil Engineers; Great vision and judgment
- Participated in 8-hr Adopt-a-Highway cleanup; removed 500 lbs of refuse--fostered community/AF alliance
- Best in command! HQ AFSPC's Financial Management Specialist of the Year for 1997
- Managed six DOCEX teams in the Multinational Division-Northern Area of Operations (MND-AO)--multiplied intelligence collection ability!
- Reorganized and upgraded Pass & ID facility on off-duty time--saved over $5,000 in labor costs
- Flawless '08 UCI prep; garnered personal and team "Exceptional Performer" awd; key to sq "Excellent" rating
- Expertly led the Squadron enlisted members during the AMC IGX in March 2006, his efforts were praised by
IGX inspectors, provided superb leadership inside the Damage Control Center (DCC)
- Selected to lead a joint theater team which discovered, targeted, and performed damage assessment on hundreds of key targets--critical to mission success
- Led 3 person water 4" main repair crew; directed damaged line exposure/fix--prevented $4k vs contractor cost
- Managed a team of four collection operators and five intelligence analysts in intelligence operations
New content is posted daily. Check back tomorrow for more examples.