body { background-color: #FFFFFF; font-family: arial, sans-serif; font-size: 16px; text-align: center; } #afwpagewidth { width: 950px; margin-right: auto; margin-left: auto; text-align: left; } #header { width: 100%; margin-top: 0px; border: 1px solid #FFFFFF; overflow: auto; } #leftcell {width: 33%; float: left; border: 1px solid #FFFFFF;} #centercell {width: 33%; float: left; text-align: center; border: 1px solid #FFFFFF; } #rightcell {width: 33%; float: left; text-align: right; border: 1px solid #FFFFFF; } #leftrightbinder {width: 100%; margin-bottom: 30px; overflow: auto; border: 1px solid #FFFFFF; } #left { width: 500px; min-height: 900px; padding: 17px; float: left; border: 1px solid #FFFFFF; } #left p {margin-top: 0px; } #right { width: 375px; height: 100%; min-height: 900px; padding: 17px; float: left; margin-left: 0px; border: 1px solid #FFFFFF; } #right p { color: 1A1A1A; font-family: arial, "sans serif"; font-size: 16px; } #right p a:link { font-family: arial, "sans serif"; } #right p a:visited { font-family: arial, "sans serif"; } #right p a:hover { font-family: arial, "sans serif"; } #right p a:active { font-family: arial, "sans serif"; } A:link { color: blue; text-decoration: underline; font-size: 16px; font-weight: normal; } A:visited { color: #000066; text-decoration: underline; font-size: 16px; font-weight: normal; } A:active { text-decoration: underline; font-size: 16px; font-weight: normal; } A:hover { color: #999999; font-size: 16px; font-weight: normal; } h1 { color: #152D6A; margin-top: 35px; margin-bottom: 45px; font: normal 32px Impact, "Arial Narrow", sans-serif; text-transform: uppercase; text-align: center; clear: both; } h2 { color: #333366; font-family: arial, sans-serif; font-size: 1.5em; margin-top: 20px; margin-left: 0px; overflow: hidden; padding-top: 0px; } h3 { color: #333366; font-family: arial, sans-serif; font-size: 1.2em; margin-top: 10px; margin-left: 0px; overflow: hidden; padding-top: 0px;} p { color: 1A1A1A; font-family: georgia, serif; font-size: 16px; } p a:link { font-family: arial, serif; } p a:visited { font-family: arial, serif; } p a:hover { font-family: arial, serif; } p a:active { font-family: arial, serif; } .arial { color: #000066; margin-left: 5px; font-family: arial, "sans-serif"; font-size: 16px; } .georgia { color: 1A1A1A; font-family: georgia, serif; font-size: 16px; } #pictures { width: 90%; margin: 0 auto; overflow: auto; border: 1px solid #999999; padding: 1%; } .onethird { float: left; width: 28%; padding: 15px; border: 1px solid #FFFFFF; overflow: hidden; } .onethird img { width: 98%; height: auto; } #form { clear: both; width: 98%; margin: 0 auto; text-align: center; padding-top: 70px; border-radius: 1em; border: 1px solid #999999; }
TRAINING EPR BULLETS
Skill Level Upgrade Training: Consider skill level awarding course, CDC timeliness completion, course exam results, and completion of core task training. Duty Position Requirements, qualifications, and certifications: Consider duty position qualifications, career field certifications (if applicable), and readiness requirements. Training of Others: Consider the impact the Airman made to train others.
- Completed up-grade training; finished Career Development Crse/scored 89% EOC test; awarded 7 skill level
- Attended 10 in-services; learned 4 ventilator settings for adult critical care skills; expertise utilized for 167 pts
- Completed 2 JIVU crs/3 hrs trng; honed pers admin/relations/leadership skill--set high stnds/emulated by flt
- Strong initiative; aced A+ Essentials Certification course; increased technical expertise/boosted job knowledge
- Committed to self-improvement and professional growth; completed math review workshop--earned a 4.0 GPA
- Completed 2R071 course; learned core competencies for verification tracking--data 100% accurate to ACC/A4
- Attended PES II course; conducted mentoring sessions on professionalism--encouraged AF career advancement
- Dedicated to professional growth; attended 8 hour public speaking seminar--enhanced skills for AF utilization
- Tackled Effective Comm/Conflict Mgmt IT E-learning crs; mentored shift--honed leadership/supervisory skills
- Completed 2 CLEP tests; earned 9 sem/hrs toward Aviation Mx Tech degree--12 credits to CCAF completion
- Conquered PTL tng crs; led 28 prsnl/19 hrs of physical fitness activities--anchored mx flt's 97% PFT pass rate
Trained/certified on crane ops; aided 21 engine removals/installations--boosted crane qualified operators 25%
- Attained Basic Life Support Instructor Crse--led two classes/trained 45 staff--secured flight 99% compliance
- Orgz'd AFSC rqmnts; enabled CATI/CATII trng for 4 AD/4 ARC pers--elim'd shortfalls/25% readines boost
- Educat'd facility mgrs; developed/integrated pest mgt plan; sav'd 200 hrs/$7K treatment cost--benefit'd 18K prsnl
- Force multiplier; tng efforts/constant involvement keyed superb compliance focus--97.2% ATSEV pass rate
- Managed flt ancillary tng; ID'd reqs 50% faster/raised sect vis--completion up 8%/flt 100% deployment ready
- Instructed eight mbrs on DPS/PIPS; vouchers paid 18% faster--smooth PCS ensured/GTC delinquents avoided
- Mastered Records Custodian tng; guarded privacy act info/created flt file plan--adhered to infosec guidelines
- Continous professional growth; cmpl'd 4 hr Supervisor/Ldrship Discipline class--enhanced ldrship/mgmt skills
- Attended base "Silver Bullet" course; sharpened bullet writing skills--accelerated professional development
- Completed 120 hrs OJT--comprehended Intel duties/excelled in OSS UDM office--explicated job knowledge
- Epitome of dedication--sustained 4.0 GPA in Early Childhood Education degree--praised by students/teachers
- Faced most mx in wk/12 write-ups; surged 167 sorties/17 pilots certified--OG/MXG CCs hailed unit, 5 yr best
- Knowledgeable; trained four technicians on tube manufacture processes--increased core task proficiency 40%
- Scholastic juggernaut; completed Master of Science Degree in Space Studies, held a respectable 3.86 GPA
- Qualified in Personnel Program tasks, tackled Information Management training; proficiency reduced report delay
- Awarded Bachelors Degree for Technical Management from Embry Riddle Aeronautical University; 3.6 GPA
-- Completed additional 22 credits towards MS degree in Technical Management while maintaining a 4.0 GPA
- Motivated airman; displayed genuine enthusiasm; made steady progress in Patient Administration qualification
- Trained junior personnel in mobilization preparation; reduced processing delays, increased efficiency
- Exchanged language lessons; learned basic Japanese/taught English--improved important US/Japan relations
- Currently enrolled at University of North Dakota--earned 9 semester hours with a 3.5 GPA
- Volunteered over 100 hours to become Self-aid and Buddy Care, Red Cross CPR certified--integral to squadron safety
- Completed 190 of 210 upgrade/qualification tasks; 75% ahead of peers, 30% ahead of schedule!
- Hazardous Material Awareness certified--enhanced skills needed to quickly identify threats to mission
- Earned 19 credit hours toward Bachelors Degree in Information Systems--maintained impressive 3.2 GPA
- Exceeds all training requirements; evident by a 98 percent on his 7-Level, End-of-Course examination
- Trained four XXXX elements in preparation for Global War on Terrorism deployments
- Selected over peers to instruct 30 students in advanced Air Base Defense skills at the Joint Readiness Training Center
- Provided twenty officers and SNCOs convoy training prior to short-notice deployment ISO Classified Operation
- Identified redundant and unnecessary ancillary training requirements; reduced time away from primary job, increased necessary skills
- Developed squadron Electromagnetic Radiation program--promoted personnel safety and compliance with OSHA guidelines
- Revised Ancillary Training Program, tailored for unit members--reduced overdue qual by 30%
- Established rapport as Ancillary Training Program manager--contingency and ancillary training effectiveness ratings were consistently highest in the squadron--highly effective leader
--Virtually eliminated late or no-show reports for training--herculean effort made to look easy
--Led section to new heights in all process performance indicators--shop continued to exceed every goal
New content is posted daily. Check back tomorrow for more examples.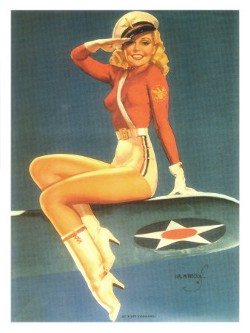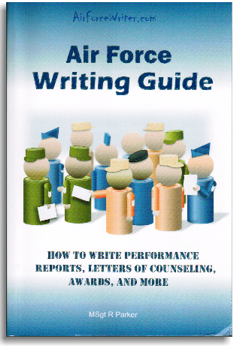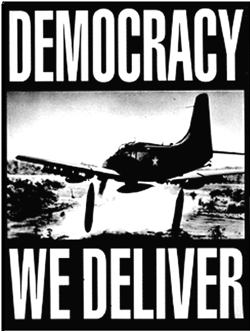 Contact editor@airforcewriter.com Use of website constitutes acceptance of terms