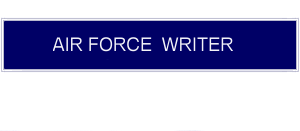 TRAINING EPR BULLETS
Skill Level Upgrade Training: Consider skill level awarding course, CDC timeliness completion, course exam results, and completion of core task training. Duty Position Requirements, qualifications, and certifications: Consider duty position qualifications, career field certifications (if applicable), and readiness requirements. Training of Others: Consider the impact the Airman made to train others.
- Completed 3 semester hrs--met requirements for CCAF Associates Degree in Electronic Systems Technologies
- Instructed six Amn on proper hazardous materials disposal; effort ensured 100% cradle-to-grave accountability
- Drilled/installed upper antenna bracket/former 2 hrs ahead of schedule/returned FMC--acft made next trng msn
-Led DTS flight inititative; 10 hrs web tng and instr qual gained--br'd Flt to Sq pgm bldg unit strenth for deplymt
-CCAF Awarded! Finished Bus Mgmt 201/Eng 101, awd'd 6 sem hrs--leaving seven classes for BS completion
- Managed CDC study guide fusion project; team created succint product; aided studies--100% flt CDC pass rate
- Conducted C-5 hydraulic jacking manifold operation; three prsnl trd/certify on critical task--shift qual's up 15%
- Mastered cardiopulmonary resuscitation/automated external defibrillator; improved sq's lifesaving capabilities
- Meticulous trainer; creat'd continuity/trng folders for new SSO NCO--mbr train'd in 6 wks, 75% faster than avg
- Attended NCO Professional Enhancement Seminar; enhanc'd leadership skills--mentored junior Airmen in SSO
- Dedicated to lifelong learning: completed 12 courses in pursuit of rigorous accelerated BS/MS degree program
- Accomplished 18 required proficiency wpns loads; zero errors/100% pass rate...surpassed 85% CAF standard
- Highly motivated; obtained 85% on two 5-level EOC test one month early...anchored sections 97% pass rate
- Superior leader--maximized simulators--upgraded FETS to BL-9--$25K under budget and ahead of schedule
- Superb job performance/attention to detail led to commander acknowlgedgement--SrA BTZ awarded
- Warrior scholar; completed two CLEP tests while deployed--earned 6 credit hours for CCAF degree in avionics
- Developed and refined the conversion to TBA computer training records for 10 QA personal in minimal time
- Led 20 pers thru pre-deploy trng, supervised eq issue, convoy & weapons trng, land navigation, and cultural awareness

-- Delivered trained Airmen able to join operations, ready to fight, immediately on arrival
- Dedicated individual; completed cdc's ontime with 89% on EOC- shows initiative towards career progression
- Attended in-flight welding course; 7 cores task signed off--immensely improving flt capabilities/msn readiness
- Comptia Network+ certified; grad level tng completed 18 months early--met cyber-critical DoD requirements
- Selected over peers to attend advanced Air Base Defense skills course; enhanced skills produced streamlined SOP
- Completed 110 of 195 upgrade/qualification tasks; 85% complete, 50% ahead of schedule
- Volunteered for ROWPU training; acquired skills needed to operate in an expeditionary environment--GWOT ready
- Radiation Hazard certified--enhanced skills needed to quickly identify threats to personnel safety and mission
- Eliminated ancillary training no longer relevant, redesigned needed training so requires less time--increased efficiency
- Coordinated HAZMAT efforts of maintenance flight sections; reduced redundant effort, produced most complete MSDS library on base
- Developed and presented training materials on new equipment being fielded to units throughout Europe
- Goal-oriented; enrolled in Air University Action Officer course; 14 of 27 courses completed, 90% average
- Completed train the trainer course--trained and certified flight personnel on job-specific tasks; zero failures
- Exceeded all training requirements; scored 94 percent on her 7-Level, CDC End-of-Course examination
- Initiated the transition of 400 personnel training records from paper files to a computerized database; provided a more user friendly and efficient system
- Trained 66 individuals in SABC training; immeasurably increased wing readiness posture
- Designed training program that improved the skills of subordinate observation teams--increased capabilities during operations by 33%
- Attended SERE Exercise with team--qualified for deployment
- Revised squadron Ancillary Training requirements, tailored for unit members--reduced overdue qualification by 30%
- Tackled failing workcenter security program; raised inspection results from substandard to excellent in less than 3 months!
- Enthusiastically completed Journeyman Career Development Course--outstanding 89% on end-of-course test
- Developed squadron Electrostatic Discharge program--prevented future equipment damge; likely savings of $20K
- Provided Land Mobile Radio training to base populace; recognized by Group Commander for superior performance
- Troops First Attitude, constantly striving for more training, sets the standards for improvised training methods, made sure that the AV shop is the best trained group in Civil Engineers; Great vision and judgment
- Assessed squadron training needs, developed appropriate programs tailored to workcenter requirements --reclaimed over 10K man hours spent on unnecessary training; enhanced productivity
- Trained personnel on forklifts (4k & 10k), warehouse tugs, and Aircraft Loading Specialty vehicles (25k & 40k)
- Managed unit deployment training requirements--ensured essential personnel, sufficient deployment staffing--integral to unit readiness
- Developed inspection criteria for 35th AW units; enabled units to prepare, equip and train on the use of individual protective equipment for an ORI and the AMC Expeditionary ORI Crisis Reach 04-02B
-- Wing members excelled in the graded area ability to survive and operate during both command inspections
New content is posted daily. Check back tomorrow for more examples.