body { background-color: #FFFFFF; font-family: arial, sans-serif; font-size: 16px; text-align: center; } #afwpagewidth { width: 950px; margin-right: auto; margin-left: auto; text-align: left; } #header { width: 100%; margin-top: 0px; border: 1px solid #FFFFFF; overflow: auto; } #leftcell {width: 33%; float: left; border: 1px solid #FFFFFF;} #centercell {width: 33%; float: left; text-align: center; border: 1px solid #FFFFFF; } #rightcell {width: 33%; float: left; text-align: right; border: 1px solid #FFFFFF; } #leftrightbinder {width: 100%; margin-bottom: 30px; overflow: auto; border: 1px solid #FFFFFF; } #left { width: 500px; min-height: 900px; padding: 17px; float: left; border: 1px solid #FFFFFF; } #left p {margin-top: 0px; } #right { width: 375px; height: 100%; min-height: 900px; padding: 17px; float: left; margin-left: 0px; border: 1px solid #FFFFFF; } #right p { color: 1A1A1A; font-family: arial, "sans serif"; font-size: 16px; } #right p a:link { font-family: arial, "sans serif"; } #right p a:visited { font-family: arial, "sans serif"; } #right p a:hover { font-family: arial, "sans serif"; } #right p a:active { font-family: arial, "sans serif"; } A:link { color: blue; text-decoration: underline; font-size: 16px; font-weight: normal; } A:visited { color: #000066; text-decoration: underline; font-size: 16px; font-weight: normal; } A:active { text-decoration: underline; font-size: 16px; font-weight: normal; } A:hover { color: #999999; font-size: 16px; font-weight: normal; } h1 { color: #152D6A; margin-top: 35px; margin-bottom: 45px; font: normal 32px Impact, "Arial Narrow", sans-serif; text-transform: uppercase; text-align: center; clear: both; } h2 { color: #333366; font-family: arial, sans-serif; font-size: 1.5em; margin-top: 20px; margin-left: 0px; overflow: hidden; padding-top: 0px; } h3 { color: #333366; font-family: arial, sans-serif; font-size: 1.2em; margin-top: 10px; margin-left: 0px; overflow: hidden; padding-top: 0px;} p { color: 1A1A1A; font-family: georgia, serif; font-size: 16px; } p a:link { font-family: arial, serif; } p a:visited { font-family: arial, serif; } p a:hover { font-family: arial, serif; } p a:active { font-family: arial, serif; } .arial { color: #000066; margin-left: 5px; font-family: arial, "sans-serif"; font-size: 16px; } .georgia { color: 1A1A1A; font-family: georgia, serif; font-size: 16px; } #pictures { width: 90%; margin: 0 auto; overflow: auto; border: 1px solid #999999; padding: 1%; } .onethird { float: left; width: 28%; padding: 15px; border: 1px solid #FFFFFF; overflow: hidden; } .onethird img { width: 98%; height: auto; } #form { clear: both; width: 98%; margin: 0 auto; text-align: center; padding-top: 70px; border-radius: 1em; border: 1px solid #999999; }
TRAINING EPR BULLETS
Skill Level Upgrade Training: Consider skill level awarding course, CDC timeliness completion, course exam results, and completion of core task training. Duty Position Requirements, qualifications, and certifications: Consider duty position qualifications, career field certifications (if applicable), and readiness requirements. Training of Others: Consider the impact the Airman made to train others.
- Admitted to Nat'l Defense Intelligence University, Master Strategic Intel Program, expanded career/personal edu
- Filled vacancy as lead CPR Cert instr RAF Molesworth--expanded base life saving skills, promoted base safety
- Completed 40 hours at Lackland NCO PES--cultivat'd vital PME leadership & managerial skills
- Scored impressive 93% on CDC crs exam; rated top 1% among Sq's Amn--"raised the bar" for peers/ldrs
- Committed to self improvement--earned six credits towards CCAF degree in Information Systems Technology
- Stellar CSA; authored instructions for CP transition to the Automated Message Handling System--zero glitches
- Ed focused; completed 5 classes, 19 credits/maintained 3.8 GPA--BS in Nursing w/in reach ... 50% completed
- Impeccable attention to detail; first time DDO managed over $1.5M in disbursments--secured zero funds loss
- Motivated; pursing Bachelors Degree in Business Administration--earned 16 credit hrs/maintained 3.2 GPA
- Completed 2 college crs'; awarded 6 cr hrs toward Bachelor's Degree in Info Sys Mgmt--maintained 3.0 GPA
- Exercised imp of ancillary trng; scored 96% on OSHA & HAZMAT two days before peers--100% mission ready
- Achieved education milestone; Completed Community College of the Air Force Degree; increased capability
- Attended DISA conference/toured CONUS HQ; relayed fielding issues/gained insight to future programs
- Aggressively pursued 7-level upgrade training; completed 33 of 33 upgrade/qualification tasks in < 2.5 months
- Warrior; attended 120-day Combat Skills at Camp Atterbury; combat life saver/counter-insurgency/AOR ready
- Trained three members in mobilization preparation--multiplied effectiveness, 3 weeks ahead of schedule
- Advanced toward education goals; enrolled on-line Action Officer course, completed 2 credit hrs toward CCAF
- Developed comlete 20-page tng pamphlet for new personnel--improved job knowledge/performance quality
- Pursued off-duty education; completed eight credit hours towards CCAF Transportation Management degree
- Accomplished 219 of 310 upgrade/qualification tasks; 71% completed on three airframes--14% ahead of peers
- Currently enrolled at University of North Dakota--earned 9 semester hours with a 3.8 GPA
- Achieved an outstanding 99.2 percent on his initial evaluation as a Keys and Codes Controller—highest score among 25 NCOs assigned
- Dedicated to self-improvement through education; completed Bachelor's Degree in Information Management at Southern University; earned a 4.0 GPA, graduated with honors and twice on the dean's list
- Improvement-oriented; enrolled in Wing Action Officer course from Air University; 10 of 26 courses completed, 95% average
- Graduated 40-hr water purification unit training; proven under fire--kept aging units operational during deployment
- Joint Focused! Provided JIT training for 200 U.S. Army personnel tasked to augment deployed forces
- Volunteered for CPR classes--enhanced skills needed to quickly aid deployed team members; 100% deployment qualified
- Consistently strives for improvement, working diligently towards career progression...recommend promotion
- Involved in local Head Start Program; read books to over 35 children--bettered community
- Completed CDCs 1 month ahead of schedule; tested 88% on end of course exam--ready to accomplish CCAF!
- Attended 40 hrs of ROWPU training; acquired skills needed to operate in an expeditionary environment--GWOT ready
- Tutored high school students--raised students' grade from an "F" to an "A" in a mere four weeks--inspiring!
- Motivated airman; displayed genuine enthusiasm; made steady progress in aircraft maintenance qualification
- Maintained a 3.0 GPA in term 1, 2 with the University of Maryland University College
- Superior performance in all phases of professional military education garnered his selection out of 22 airman as Airman Leadership School Distinguished Graduate for class 04-C!
- Trained 16 ARC pers on 51 core/duty tasks; mbrs 100% equipped/qualified--enhanced "Total Force" readiness
- Trained 4 Amn on data backup & restoral procedures; increased task coverage; 5 lvl requirement met
- Manually updated 31 systems to latest SAV edition; quarantined 35 outdated systems--protected 2.1M network
- Taught pre-deploy trng; despite short-notice, worked closely with trainees, staff, produced AOR-qualified Airmen on time
New content is posted daily. Check back tomorrow for more examples.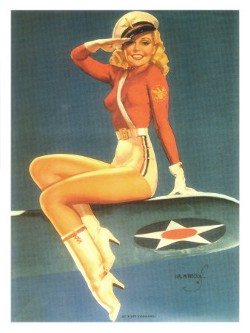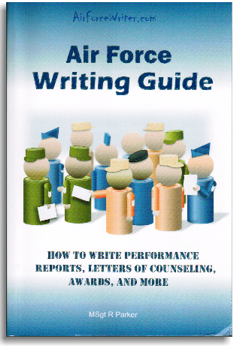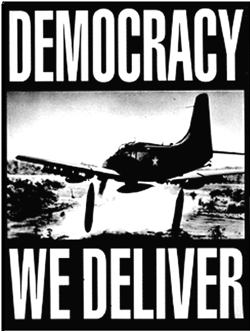 Contact editor@airforcewriter.com Use of website constitutes acceptance of terms