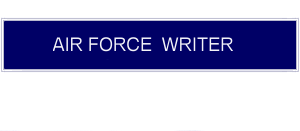 Air Force Civilian Awards
This page started at readers' request. We only have a couple of civilian award examples. Whatever we receive will be posted on this page until we get enough to start organizing it.
---
CITATION TO ACCOMPANY THE AWARD OF
AIR FORCE ASSOCIATION OUTSTANDING AIR FORCE CIVILIAN EMPLOYEE
OF THE YEAR FOR 2011
CIVILIAN PROGRAM SPECIALIST CATEGORY
TO
XXXXXXXXXXX
Mr. XXXXXXXXXXXXXXX distinguished himself as Instructor, Aircraft. Sheet Metal School, Center Education and Training Branch, Force Development Division, Ogden Air Logistics Center, Air Force Materiel Command, Hill Air Force Base, Utah, from I January 2010 to 31 December 2010. Mr. XXXXXX took on the task of replacing worn out aircraft sheet metal school training equipment that was becoming unsafe. Upon learning that the training budget could not support buying new equipment Mr Bowles searched throughout the depot for possible replacements. He discovered nearly new and seldom used equipment in a depot maintenance shop and convinced the supervisors that the sheet metal school's training needs exceeded their shop needs. The shop transferred the equipment at no cost to the school thereby modernizing the school and saving over $20,000 in new purchasing. The distinctive accomplishments of Mr. XXXXXXX reflect great credit upon himself and the United States Air Force.
---
Charleston Air Force Base
Woman of the Year 2009
This application is necessary for processing all nominations as fairly as possible. Any other format used will not be considered. Group Commander Endorsement is required. Type or print legibly. Do not write on the back ofthis form. Each Group may submit one active duty nominee and one civilian nominee.
DEADLINE FOR NOMINATION IS 28 FEBRUARY 2008, PLEASE SEND IN A SEALED ENVELOPE MARKED "437 AMW/JA ATTN: SMITH" or email scanned signed form to betty.white@charleston.af.mil
NOMINEE'S NAME: Cynthia S. Sims RANK: GS-5
Status (Check one) ___ Active Duty _X_ Federal Civilian Employee
DUTY TITLE: Administrative Assistant, 437th Aerospace Medicine Squadron
AGENCY/OFFICE SYMBOL: AMDS/SGP
NOMINATED BY: Col Judith Corona
Personal Contributions that enhance the advancement of women in the Federal workplace (7pts)
-Excellent contributions resulted in selection as 2007 Aerospace Medicine Sq Civilian of the Year
-Provided outstanding service as a key member of the National Association of Female Executives
-Motivated mentor; eagerly donated countless hours working with Hospitality/Childcare Ministries
-Served as Command Section Representative for the Aerospace Medicine Unit Advisory Council
-Supports all hospital advisory council functions; raised funds for variety of morale/welfare events
-Group Patient Advocate Liaison; facilitates uninterrupted care/ensures 100% patient satisfaction
-Wealth of knowledge/provides exceptional administrative support to Sq Commander and 179 personnel
-Serves as administrative link between SOCCENT/SOCOMI AMDS personnel and Commanders
-Pillar of strength in the community; eagerly serves as Bible-Based Fellowship Church Historian
-Serves as the Functional Area Records Manager; diligently supervises/trains 10 record custodians
-Dedicated assistant; manages the Defense Travel System/Individual Manning Assistance Program
-Provides civilian administrative support in Public Health Health Promotions Bio-Environmental
-MAJCOM representative for record inspection; awarded "Excellent" rating/areas 100% compliant
-Inspirational leadership; oversees all meetings/correspondence within the auxiliary departments
Significant Performance and Achievement (3pts):
-Continuously strives for improvement; completing coursework for degree in Health Management
-Cost Center Manager responsible for $15K budget; provides allocation for all equipment/supplies
-Manages eight Individual Mobility Augmentee personnel; contributed to 100% medical readiness
-Unparallel devotion to the unit; coordinated/setup countless retirement and promotion ceremonies
-Revamped electronic file plan/data tracking system; squadron now online with basewide system
-Implemented 90-day turnaround on all OPR/EPRs; reports now 30 days early; 100% success rate
-Controls $50K automation equipment; performs administrative updateslzero disruptions in service
-Implemented new directives/regulations/technical orders w/o interruptions to pre-existing policy
Endorsed by: Supervisor (if applicable)
Squadron Commander (if applicable)
Group Commander (required)
HORATIO M. KLINE, Colonel, USAF MSC
Commander Medical Group
---
References:
Performance Evaluation and Recognition of non-US Civilian Employees -Includes information on AF Letter of Appreciation and AF Form 3033, Certificate of Appreciation, Letter of Commendation, and AF Form 3034, Certificate of Commendation.
Arthur S. Flemming Award Criteria -Includes information on award eligibility, nomination procedures, and format.