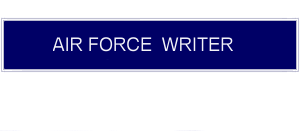 Additional Rater's Comments
- Performs at SNCO level; decisive leader/superior performer who brings out the best in others--promote now
- Quality leader w/ a bright future; Wg Staff Agency 4th qtr SNCO--selected from 15 SNCOs, promote to SMSgt
- Limitless potential; Team Lajes nominee for Tuskegee Amn CMSgt Archer Leadership Award--SMSgt soonest
- Focused leader; created 19 limited CI binders--spt praised by USAFE inspection tm, ready for SMSgt soonest!
- Talented leader; tasked 51 inspection monitors on local CI preparations--23 Strengths ID'd, promote to SMSgt!
- Leads the way; directed IG during FGO 45-day absence; garnered 65 ABW WSA 2Q10 SNCO--SMSgt a must!
- Outstanding SNCO & frontline leader; benchmark of excellence for others to follow--perfect choice for SMSgt
- A "get it done SNCO"; displayed selfless devotion/utmost professionalism; Sq NCO 4 Qtr '11--SMSgt now!
- Outstanding leader; unparalleled RM expertise; perfect role model for Airmen--definitely promote to SMSgt!
- Selected to fill-in as division Superintendent; balanced KOM duty & 15 cells w/ 182 prsnl--promote to SMSgt
- Valuable leader; streamlined KOM practices and orchestrated redeployment of 122 Division mbrs--promote now!
- Effective ldr; delivered 87 mbrs to high-vis confs/ex/missions in spt of CFACC priorities--promote to SMSgt!
- Natural leader; technical knowledge & expertise critical to A3's success--definitely promote to SMSgt soonest!
- Alerted ACC FOIA mgr of misclassified info; averted release of classified docs--promote to SMSgt next board
- Superb leader w/ outstanding work ethic; exceptional managerial skills/judgment--promote at first opportunity
- Top professional committed to excellence--SNCOY of 14 staff agencies; base FM position a must, SMSgt now
- Head and shoulders above peers! Trusted expert, mentor & leader; delivered C2ISR to 8 COCOMS--promote!
- Dynamic SNCO! MXG Mx Pro of Qtr; leadership catalyst to wg's '12 AFOUA, '11 MUA--promote to SMSgt!
- Extraordinarily knowledgeable/skillful--continually educated junior enlisted setting high operational standards
- Superior leader and driven SNCO possessing strong record of credibility, trustworthiness, and perseverance
- Well rounded leader--always in middle of critical processes--proven commitment to achieving unit's success
- My key ldr on CDR AOR inspect tm--id'd 100+ trng flaws; devel'd sols & Services implemt'g--4-star lauded!
- Led 450 in cyber insp prep; killed 3,200+ issues in qtr norm time--"best in DoD!" stated CYBERCOM CDR
- My #1/8 jt E-8s! My best SNCO in 24 yrs; prod'd 6 qtrly/4 annual awd winners; rcrd for my org--CMSgt now!
- Combat vet; mentored 6 convoy CCs; focused on safety/enemy tactics--expert ldrshp catalyst to zero casualties
- Oversaw ops for 152 armored vehs worth $21M; executed 168 msns--key to Jt Task Force's best 97% MC rate
- Highly motivated individual with exceptional communication skills and the ability to motivate subordinates
- Consistent superb performer with enviable depth and breadth of experience in joint air ops--promote to SMSgt
- A topnotch NCO that continuously exhibits effective organizational abilities, professionalism and dedication
- Volunteers to perform extra tasks that help the Wing and Squadron meet its deployments and mission readiness
- Hard working, dedicated individual; contributed to Wing obtaining its seventh straight Outstanding Unit Award
- Extremely resourceful SNCO; demonstrates profound ability to identify problems/solutions in a timely manner
- Key player for continued success of unit; proactive in retention and recruitment; outstanding asset to squadron
- Devotion for duty, excellent organizational, professional and managerial abilities/positive "can do" attitude
- Safety conscious; successfully managed Confined Space and Emergency Tank Extraction Program
- Guided sound environmental/safety programs; AMC ECAMP audit and Wing safety SAV noted error free
- Squadron retention leader, 100% reenlistment rate for section, superior moral screams strong followership!
- Preparation, leadership and FAC management aided FSS °Excellent° rating during 2011 AMC-IG CI; promote
- Outstanding NCO; infused AFSOC's professional mindset of future Air Commandos--promote to SMSgt ASAP!
- Chief lvl performer; standout from 140 as MXG's '11 Lance P. Sijan winner--absolute must selection to Chief!
- Embodies/exemplifies "pride & professionalism"; always gives max effort, gets decisive output--promote now
- WG Top 3 liaison to ACE; led/challenged 2.3K+ Amn on principles of "Airmanship;" vital to enl development
- My #1/4 MSgts; multi-talented ldr; garnered 18 MDOS SNCO of 3d Qtr; SQ Supt posn next; SMSgt stripe now
- Desire for greater responsibility evident; continue to develop workload prioritization skills, ready to promote
- Staunch advocate of mentoring and counseling training; consistently led efforts in building the enlisted force
- Consummate ldr/mentor & role model; steadfast focus on pers/msn--make this proven manager a SMSgt ASAP
- My #1 of 6 experienced SNCOs; selected by Flight Chiefs as 1961st Maintenance Group SNCO of the Year 09
- Developed Lost Item ACC Base Comparison presentation--leadership reviewed lost item trends within ACC
- Put learned FOD knowledge from annual conference to use; created new airfield check points--zero incidents
- Possesses great qualities/breadth of knowledge; a SNCO who is ready for SMSgt--promote at first opportunity!
- Driven and goal oriented SNCO--completed SNCO Academy correspondence course w/impressive 94% avg
- Master of his trade; I rely on his knowledge and expertise on the system configuration; promote
- Dependable, motivated, and trustworthy--a SNCO with the courage to manage without visible support