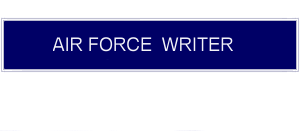 Other Comments (AF Form 911)
Consider Promotion, Future Duty, Assignment, Education Recommendations, Safety, Security & Human Relations
- Dynamic SNCO; demos leadership abilities/innovation/effective problem solving--"big picture" strategic goals met
- Remarkable leader; guided flight to outstanding 95% quality assurance pass rate--promote to SMSgt quickly!
- Exuded fundamentals of a professional NCO; challenge with additional responsibilities--promote immediately
- Hard-charging SNCO; possesses solid-gold professionalism & leadership needed for SMSgt--a must promote!
- Outstanding SNCO, true professional; section earned 100% QA pass rate during his tenure--promote to SMSgt!
- Mx leader; IG lauded his section as "Impressive" during Aug 10 AFGSC NSI--zero findings; promote now!
- Phenomenal SNCO! Stellar instructor/leader with huge influence on AMC & USAF mx ldrshp...SMSgt a must!
- ALCF Comm/AGE subject matter expert-highly sought throughout community to instruct/evaluate other units
- Invaluable ALCF asset-section runs at top efficiency under MSgt Cotton's watchful eye-challenge and promote
- Ensured smart business decisions; utilized consolidation point for 8 buys--saved over $21K in shipping costs
- World class NCO; aggressively attacked many demanding challenges with success as the end result--promote
- Outstanding NCO; continually proved himself; challenge with more responsibility--promote to MSgt now!
- Oversaw comms gear install at 18 Embassys; provided CDR critical C2 capblty w/ Ambassadors--CMD first
- Outstanding enlisted warrior ldr! Best SNCO I've seen--must promote to CMSgt this board, then Cmd CMSgt!
- #1 of 11 SMSgts; a supervisor's dream--every task is completed to perfection; immediately promote to CMSgt!
-Modernized section with active GDSS accounts-interactive data conducted real time, simulation block removed
- Warrior scholar; completed 2nd CCAF in Logistics Mgmt--earned 12 sem hrs leaving 7 classes for BS degree
- Hard-charging SNCO; possesses solid-gold professionalism & leadership needed for SMSgt--a must promote!
- Squadron physical fitness monitor; provided the squadron with an improved squadron fitness program
- Active participant in squadron and group functions; family day, employer appreciation day, Christmas party
- People-first approach kept mission going and on-time flight departures; strong supporter of OEF

- Ensures compliance with federal, state, and local laws pertaining to environmental and pollution prevention
- Volunteers off-duty time contributing to base and local community events, such as Operation "Day of Caring"
- Shows extreme maturity in leadership and supervisory ability; possesses the one important trait...leadership!
- Provides 100% of Comm/Info Sys sprt to SDO/DATT, OMC & 3 LNO's; makes it look easy--SMSgt first time!
- Cited by J6 inspector as #1/15 SCO Comm & Info Sys Mgrs w/in AOR; reprt noted "to be used as an example"
- Strict funds certifying of OMC's $3M bdgt contributed to awd of CENTCOM 2011 Finance Office of the Year
- My #1 of 8 SNCOs in OMC/DAO; always gives max effort, gets decisive output--promote to SMSgt first time!
- Determined NCO! Fulfilled AF needs/retrained into demanding 1N4 AFSC; maintained 95 GPA & ranked 4/13
- Collaborated on conf registration d-base; initiated paperless processing--secure up-to-minute clearance rosters
- Ready to meet needs of AF; volunteer'd to retrain into intelligence career field--will fill crucial AFSC shortfall
- First impression for SCIF visitors; constant adherence to military customs/courtesies...praised by senior ldrs
- Educated 17 network users on computer security procedures--ensured computers free of viruses/hidden defects
- A+ performer; guaranteed success, produced excellent results across the board--immediately promote to TSgt!
- Humanitarian; donated over $200 in materials to animal shelters--ensured needed supplies for abandoned pets
- Transport'd 1.5K lb donated food from MAFB to KS Food Bank--guaranteed DoD Feds Feed Families success
- Phenomenal airman; contributed to XXX CES winning the Air Force Outstanding Unit Award in XXXX--promote!
- Executed severe weather cklist for 3 snow/ice storms; coord'd w/base to clear ramp--assured safe AF-1 msn