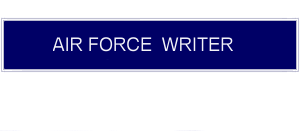 Remarks Block EPR Bullets
- Excellent airman; unwavering determination to accomplish any given task--promote next available opportunity
- Focused on continuous improvement; acquired $57K in Armament flight upgrades--15% increase in efficiency
- Orchestrated Allied Spouses Club Charity Bazaar; led 20 mbrs/100 hours--raised $4K/ hosted 3K intl visitors
- Aced American Literature CLEP; earned 6 credits toward A/C Mx Technology deg--amassed 55 of 64 credits
- Hard-charging and motivated NCO; abundant talent and ready for toughest challenges. Promote to TSgt now!
- Oversaw pallet train build up procedures; ensured all involved were aware of hazards and avoidable risks
- Participated in WING/SQUAD FOD walks; collected debris from airfield--eliminated potential hazard to acft
- Multifaceted individual dedicated to excellence; awarded DoD & AF mediation cert; sharpened skills as EOA
- Judged local high school science fair; 22 youth qualified for prestigious scholarships; stimulated future leaders
- Donated household goods and clothes to Airman's Attic; gave hope to local Air Force members in need
- Volunteered to be the A2 FARM; assisted 8 record custodians in files maintenance/disposition...AFI compliant
- Outstanding performer! Highly motivated & prepared; ready for increased responsibilities--promote ASAP!
- Worked US Census Bureau block party--manned booth--nominated Jan-Mar "Support Professional of the QTR"
- Volunteered for Child Development Center Military Appreciation Day event; mentored 140 kids--total success
- Lead ATV instr; trnd 16 Amn/10 DOD police ofcrs--ensured safe ops/increased unit cert'd operators by 20%+
- Outstanding NCO with concrete msn focus and dedication to Air Force trng objectives--promote to MSgt now!
- Expanded supervisor/leader skillset; completed 4hr performance report writing course--utilized in duty section
- Outstanding performer--substantial aircraft experience enhanced entire instructor core--promote immediately
- Aggressive NCO--aided in the design of four new C-130 engine trailers--saved AF $22,000--promote now
- Top-notch instructor--displayed pure dedication and demonstrated total professionalism--promote immediately
- Consistently strives to provide superior results--ready for greater responsibilities--promote Paul immediately
- Extremely energetic and motivated instructor--ready for any and all challenges--promote Thomas immediately
- Outstanding achiever capable of increased supervisory responsibility--eager to transition roles--promote now
- Motivated junior NCO ready for added responsibilities, challenges, and ways to prove himself--promote now
- Accomplished/knowledgeable/productive instructor--consistently exceeded all standards--step promote now
- Aided ACC firewall installation team; bolstered network security posture--thwarted over 5k network probes
- Gifted technician w/unparalleled initiative; continue to challenge w/ increased responsibility--promote!
- TSgt XXXX is a dynamic and energetic manager who continually displays all the traits of a First Class SNCO
- An indispensable member of our staff; responsible for several changes that improved our personnel programs
- A Self-Starter whose work is marked by integrity and initiative. SSgt XXXXXX performs with precision and a great sense of responsibility. Appearance and military bearing are above reproach. Recommended for promotion
- Phenomenal airman; surpassed every expectation in training and duty performance; ready for promotion now!
- Quality NCO; displayed excellent knowledge , drive and initiative in completing any task-- promote now
- A well rounded individual, supports and encourages participation in squadron and community activities
- Outstanding Airman with can-do attitude--always willing to accept more challenging tasks with greater responsibility
- Star performer! Received only stripe available from 321 MG/CC for STEP promotion to Staff Sergeant
- Selected as top performer of the quarter for 3rd Quarter 2004; displayed leadership, professionalism
- First rate professional! Shows ability and initiative to assume greater responsibility--promote now
- Leader, motivator, skilled technician--leads the pack--keep him in the front--promote to SMSgt now!
- Top quality performer with unparalleled potential and solid NCO attributes; promote to TSgt ahead of peers!
- My #1 of 6 SNCOs; selected by Maintenance Chief as 1961st Maintenance Group NCO of the Year 04'
- Highly motivated! Energetic and diligent--demonstrated strong ability to identify, analyze and solve problems
- Exceptional performer--further challenge with most difficult tasks--promote ahead of peers
- Best in command! HQ AFSPC's Financial Management Specialist of the Year for 2002
- Member chosen, flown to AMC Headquarters to accept AMC C& I Professional of the Year award
- Flexible and versatile leader with unbounded potential, ready to assume SNCO responsibilities!
- My go to NCO for ISR planning; outstanding NCO with exceptional knowledge, promote to SNCO now!
- Reorganized and upgraded Pass & ID facility on off-duty time--saved over $5,000 in labor costs
- Dynamic and distinguished NCO; leads by example; sets high, attainable standards--promote immediately
- Demonstrates the confidence needed to face the USAF toughest challenges--promote when ready (4 rating)
- My #1 of 16 TSgts! Superior performance across the board--give him bigger challenges--promote now!
- My #1 of 5 SNCOs--proactive leader--exemplary NCIOC who led the most active section in the squadron
- Tutored high school student--raised students grade from an "F" to an "A" in a mere four weeks--inspiring!
- Volunteered 3 hours for Adopt-a-Pet at Vandenberg Team car wash; helped raise over $500--promote soonest
- Dedicated to healthy lifestyle; competed in Okinawa open wrestling tournament--won second place trophy
- Participated in annual base charity fund raiser, the 24 hour marathon--increased military stature
- Outstanding support of 17 MUNS/5 AMXS for Jan 10 Limited NSI--no errors; SMSgt promotion well-earned!
New content is posted daily. Check back tomorrow for more examples.