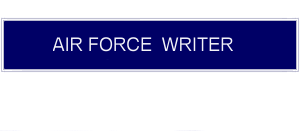 Performance in Primary Duties
Consider the quality, quantity, results, and impact of the Airman's knowledge and ability to accomplish tasks. Initiative/Motivation: Describes the degree of willingness to execute duties, motivate colleagues, and develop innovative new processes.
- Proven Leader! Selected by LSET team as a Honor Roll/Star Performer; Programs praised by inspection team
- Positioned self as Professional Logistician; Completed AFIT LOG 299; able combat logistic systems provider
- Conquered LRO School! Learned latest logistics knowledge; rec'vd academic honors/EOC in 90 percentile
- Attended AF IDO Course; gained critical job knowledge/enhanced AEF deployment skillsó
- Received training/CSA/DTS monitor; provided guidance to six deployers--streamlined process at lowest level
- Picked up base-level program/Alt NCE Manager; received training on MNCL--ensured NCE ready for msn
- Finished Joint Logistics Doctrine Crs; expanded logistical understanding--will aid future U.S. Joint Warfare
- Completed Intermediate Algebra class through MSU--earned 3 credit hrs towards CCAF Logistics Mgt Degree
- Finished nine Defense Equal Opportunity Management Institute CBTs--attained valuable supervisory skill set
- Accomplished US Constitution, Iraq/Afghanistan familiarization CBTs--raised cultural knowledge/awareness
- Briefed staffers of Senate Appropriations Committee--provided sit awareness of significant assets in AOR
- Produced over 1.6K high quality products; critical information to complex I&W database--AOR CC informed
- Supplied detailed feedback on key airborne assets to AOC/DGS CC--maximized ISR mission effectiveness
- Managed small arms ammunition acct w 100K+ rounds worth $43K; training, combat readiness maintained
- SME meticulously prepared for UCI;identified/corrected 13 critical violations--100% compliance w/ standards
- Obtained crucial licenses needed for armory acquisition; avoided mission failure and secured new USAF asset
- Led base-wide trespassing issue; Id'd 9 subjects/$34K upgrades/targeted patrol/K9 ops--eliminated deficiency
- Developed intel fusion cell w/base/local/federal agencies--provided critical info vital for installation security
- Fundraising lead for St re-naming/SSgt Griffin/SF Iraq KIA; 10 events/90 vols/raised $15K--awesome tribute
- Led fundraiser; 250 Amn/4K man-hrs/raised $2K for Joplin tornado relief--superb mentorship/AF ambassador
- Revamped quarterly/annual trends analysis; id'd 30+ deficiencies--improved SF LE tactics/PL1N security ops
- ART Prgm Manager; XX sqs/XXX UTCs tracked/correct/validated--foundation of Wg's 100% on-time reporting
- Oversaw tasking validation--analyzed 528 contingency AEF/XXX taskings--ensured combat ops sustainment
- Streamlined redeployment process--flawless integration/300 Air Commandos--LRS selected SOMSG sq of yr
- Revamped UDM trng course--added material for comprehensive coverage--improved unit's mobility readiness
- Driving force in leading the UDMs to an unprecendented 100% error free deployment folders during 2011 ORI
- Managed CPD Sharepoint homepage; worked 30 hrs updating info--division informed/current events published
- Wg Logistics Module administrator--managed 117 accts--identified sys deficiencies/initiated corrective action
- Performs at SNCO lvl; SSgt in Msgt duty pstn; managed 6 Airman--ensured unit maintained misson/cmbt goals
- Reorganized ARMS section; streamlined shop/provided leadership/instilled pride; increased production 50%
- COR custodian manager/SARM section; managed 45+ mission essential records; enabled 2,619 trng sorties
- Validated Go/No-GO's 187 flts/454.6 hrs/Green Flag; ensured 65 aircrew prepared for upcoming deployment
- Overhauled 366FW ARM system; found/corrected 15 critical errors--ensured 175 pilots/wso's combat ready
- Input/audited training msns totaling 440 sorties for 1200 flying hours; established 100% accuracy of database
- Flawlessly produced 500 flight authorizations; efforts garnered 95% msn effectiveness and sortie completion
- Ensured validity of critical Go/No go items for 104 aircrew members; assured zero discrepancies of flt data
- Proven ldr; filled assistant NCOIC position on multiple occasions--led shift on 40 off-eqpmt/11 on-eqpmt insp
- Calibrated spectrometric oil analysis unit; achieved 95% correlation score--topped DoD standard by 15%
- Direct oversight of 3-man Special Actions team--assisted Scott AFB mbrs w/ special mil/tvl pay & debt needs
- Oversaw processing of 400+ payment & collection vouchers worth >$3.2M in Centralized Disbursing System
- Bolstered e-commerce in AOR; processed $558K+ in vendor & $98K in SDP deposits w/ Eagle Cash system
- Tackled 840+ CMS cases w/ MPF & base agencies to drastically reduce no. of stagnant cases >5 days to zero
- Managed $1.4M equip acct; turned in four NATO AAS/nine generators to DRMO--saved $455K in repair cost
- Accurately shipped over 1.5K tons of cargo; valued at $40M+ w/out delays--ensured 100% in-transit-visibility
- Provided A/R support to the best C-130 unit in OIF--3,588 flt hours accumulated; 4,582 tons of cargo moved
- Instructed 3 new team mbrs on pymt tariffs/entitlements; ensured understanding--reduced discrepancies 20%
- Validated 10K lines of accounting; identifed/corrected 150+ errors--saved $6K in manual invoices charges
- Recouped $4K in over-payment to vendor; ensured 100% compliance/optimized government funds--promote
- Certified invoices on 1.5K NTS lots for 9 TSPs; validated $5.7K in service charges--99% penalty/error free
- Calculated/processed 1.2K/$960K PPMs & stg reimbursements; avoided erroneous charges--saved gov $15K
- Procssed 7 DPM contractors invoices; reviewed/certified $1.6K in fees--submitted before suspense to DFAS
- Isolated no afterburner discrepancy; discovered/replaced faulty exciter--aided 2.9% repeat/recur rate, Nov 07
- Directed C-17 fuselage/pod repair; replaced two chafed structual components--finished in 36 vs 72 hr ETIC
- Led 5 file server re-builds; 232TB of critical data moved--4k users file retrieval access time slashed by 30%
- Oversaw 150+ data backup & restoral tasks; seamless information redundancy resulted in 100% data recovery
- Resolved 235 trouble tickets; 55% above avg/20% more than closest--improved service to 100s of customers
- Executed JTF Network Ops orders; forced 230 SIPRNET scans/password resets--solidified network defense
- Instructed personnel on AF policy and AF PT/Eval/Urinalysis programs and consequences--reduced failures by 90%
- Led tank reseal team--reduced fuel leak delayed discrepancies to 0.5 per aircraft--exceeded MAJCOM goal by 50%
- Accomplished 229 of 317 upgrade/qualification tasks; 75% completed on three airframes--ahead of peers
- Effected over 600 KC-135 fuel system repairs--enabled over 7K Wing flying hours--mission success!
- Responded to Red Streak leaking Benson tank connections during preflight. Closed, secured manual valves, isolated leak, allowed immediate launch
- Performed complicated frequency converter and amplifier frequency response and gain alignments
-- Enabled 100% operational redundancy and directly responsible for the low satellite link failure rate
- Established satellite link with JCSE during Exercise BRIGHT STAR '00; tested equipment, circuit, and carrier path for reliability, provided error-free link, ensured terminal prepared for mission readiness
- Isolated Terrestrial Critical Communications Circuit (TCCC) outage to loss of crypto synchronization; reloaded keying material; restored communications circuit before circuit was logged out by technical controllers
- Oversaw long overdue and complicated preventive measurement inspections (PMIs) on terminal equipment
-- Supervised and trained seven technicians on measurements, adjustments, lubrication, and alignments
-- Actions completed well before the eight hours authorized downtime; quickly restored service to users
- Quickly identifed jamming source and prevented damage to the West Pacific satellite
-- Isolated upconverters from computer control and attenuated their output when the terminal processor seized control and raised transmit power high enough to disrupt all communicatons on the satellite
- Valued trainer; trained six personnel on high power amplifier tuning methods, adjustments, and anomalies
-- Improved maintenance capability and eliminated unscheduled outages due to misalignments
- Traced problem on faulty alarm interface panel to burned resistor, replaced, restored monitoring capability
- Updated workcenter's master equipment inventory listing (EIL) and preventive maintenance schedule -- review increased inventory accuracy and improved maintenance of new assets at USCENTCOM by 40%
- Tested and identified a faulty U-link used to patch circuit trunks between the Digital Communications Sub-System (DCSS) and Operations Van--prevented future intermittent communications interruptions
- Performed annual modem characterization procedures; verified equipment performed within optimum operational levels; ensured compliance with Defense Information Systems Agency standards
- Provided valuable assistance to Tobyhanna Army Depot maintenance team; replaced azimuth motor electric brake assembly; enabled depot team to proceed with troubleshooting of autotrack failure
- Isolated link outage to autotrack failure; slewed antenna to restore tracking to reestablish satellite link
-- Restored communications in less than one minute; contributed to terminal's over 99% reliability rate
- Managed Technical Order accounts and commercial manuals for two functional areas
-- Prevented maintenance delays due to lack of technical references by providing necessary resources
-- Created intuitive index by function and equipment; increased maintenance effectiveness
- Identified downconverter automatic switch failure, traced to switch and repaired, restored redundancy
- Knowledgable on the Switch Multiplexer Unit (SMU); trained personnel on programming
-- Responsible for successful participation in site's first tactical provision of switched DSN resources
- Isolated cross-talk noise problem on site's tactical interface panel; identified inadequate shield grounding on signal cables; corrected long-standing discrepancy; restored interface capabilities with tactical systems
- Superior performer--integral to the delivery of over 12M gallons JP-8 aviation fuel to 110K a/c annually
-- Individually responded to over 3500 servicings--maintained an impressive 15-minute average response time
- Supported daily replenishment of F-76 fuel to special purpose vehicle fleet--guaranteed mission readiness
- Extensive technical knowledge--expert troubleshooting ability decreased equipment down time by 40%
- Assisted in delivering over 75K gals of JPTS--supported five temporarily assigned U-2's--Zero Delays
- Productive asset--enabled continuous mission support when 25% of the flight was deployed
- Quickly mastered all facets of PACAF's largest distribution element--reduced workload on team
- Quick decision making during ERRI/CERI scenarios--executed post attack UXO sweeps and SABC care
- Cultivated foreign relations--worked hand-in-hand with deployed joint-service multi-national coalition forces
-- Overcame communication barriers--safely delivered 200K gallons of aviation fuel to Korean contingent
- Deployed superstar! Safety NCOIC of EAMS, ensured safe movement of 77K passengers/80 million lbs cargo
- Meticulous attention to detail; orchestrated the transfer of over 6000 pieces of classified ; 100% accountability
New content is posted daily. Check back tomorrow for more examples.