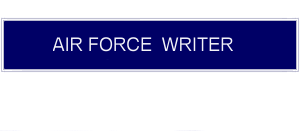 ADDITIONAL RATER'S COMMENTS
Consider Overall Performance.
- Guided new ISR msn; Horn of Africa ops combating terrorism/piracy on target--228 images/7 ad hocs first flt
- Streamlined weapons scheduling process & eliminated no-shows; AFSO 21 in action enhanced CATM mission
- Received/stabilized 25 critically injured CCATT pts at SAMMC; rapidly transferred to higher echelon of care
- Delivered inservice on Belmont Rapid Infuser; taught 20 staff on set up/operation; eradicated operator mishaps
- Forged alliance; guided 23 Army mbrs on EPR bullet construction/AF customs; promote to TSgt ahead of peers
- Mx leader; IG lauded his section as "Impressive" during Aug 10 AFGSC NSI--zero findings; promote now!
- Key member and valuable asset to our unit! Highly respected leader and mentor by Group senior leadership
- Fueled '08 FHP; executed 300 maintenance tasks; zero repeats in Aug-Sep/26 mo unit best--7.2K sorties flown
- Above all! Member on one of only three USAF F-16 Demo teams; cross-utilized as crew chief--promote now!
- Developed Lost Item ACC Base Comparison presentation--leadership reviewed lost item trends within ACC
- Put learned FOD knowledge from annual conference to use; created new airfield check points--zero incidents
- Possesses great qualities/breadth of knowledge; a SNCO who is ready for SMSgt--promote at first opportunity!
- Singular initiative and ambition hastened the progress and development of our mentoring program in 2009
- Eager Volunteer; represented the AF at elementary school Patriot Day event, exemplary showcase of the AFRC
- Impeccable military bearing paired with maturity and poise; the Airman every unit hopes to gain--promote now!
- Naturally encompass the superlative qualities needed in todayís Air Force; a shining example of our core values
- Demonstrates the confidence needed to face the USAF toughest challenges--promote when ready (4 rating)
- My #1 of 16 TSgts! Superior performance across the board--give him bigger challenges--promote now!
- My #1 of 5 NCOs--proactive leader--exemplary NCIOC who led the most active section in the squadron
- Aided Facility Management for 2 months showing great efficiency when tasked; displayed great versatility
- Superior leader and professional; sets high standards for his peers to emulate--ready for promotion! (4)
- My #1 NCO; selected as Health Services Manager of the Year 2005--promote ahead of peers! (5)
- Mature and confident airman with extraordinary knowledge and initiative--immediately promote to SSgt!
- The most conscientious, loyal, and dedicated NCO Iíve served with in 20 years-- STEP to TSgt Now!
- A positive, can-do attitude; an example to his peers and subordinates
- An excellent performer; always looks for ways to improve the working environment for the MacDill team
- Automated logistical operations reporting; resulted in a 25% increase in the rate of transactions
- Reviews regulations constantly; sharpens knowledge while providing excellent service to all AMC travelers
- Utilized process improvement techniques; reduced military performance reporting delays by 75%
- Superior leader and professional; sets a high standard for his peers & all to emulate--ready for promotion
- Highly motivated; determined to succeed in his job; completes tasks correctly first time; a real strength (4 rating)
- Highly skilled member and motivated NCO; valuable asset to the unit and vital to Air Force mission--promote!
- Consummate law enforcer; professionally handled any of a variety of situations thrown in his direction
- A first-rate non-comissioned officer who is willing to face up to any task and tackle the issues head on
- Good work ethic; tackles any task above his skill level w/outstanding results--promotion to SrA recommended
- A well rounded individual, supports/encourages participation in squadron and community activities--wingman!
- First-class NCO whose can-do attitude and ceaseless determination are contagious--an excellent role model
- My number one SSgt; proven, exemplary track record confirms he is ready for immediate promotion!
- Top 15% of my SNCOs; superior technical expertise paired with unmatched motivation - promote to SMSgt!
- MSgt <> is the epitome of a highly motivated Senior NCO in appearance, knowledge and performance
- One of my best - a highly skilled/consistent stand out performer recognized by AMC IG - promote now!
- Guided 17 preventive maintenance inspections; sustained access to 21 servers--ensured service to 4k+ users
- Assisted critical software tiger team; 298 MDG systems patched/restored--swift response lauded by MDG/CC
- Consistently produces sound results; continue to challenge this NCO with more responsibility--promote!
- Community advocate; vol'd for base appearance tm--beautification project enhanced quality of life for Wg mbrs
New content is posted daily. Check back tomorrow for more examples.