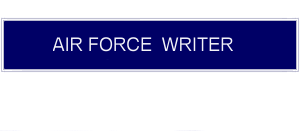 ADDITIONAL RATER'S COMMENTS
Consider Overall Performance.
- Technical expert and team player; earned directorate Amn of Qtr 4Q12--recent SSgt promotion well deserved!
- Salvaged dilapidating section; reinforced 36-2618/crafted peers/steered shop from inevitable failure...STEP!
- He is high speed/low drag; thinks ahead, leads and mentors at levels above peers--promote now!
- Complete package! No task too small/unlimited capabilities; my go to guy in critical situations...promote now!
- Aggressive; led repair of AC-130 brake sys; R2 metering valve < 1 hr, 2-hr norm; OIF msn launched on-time
- Impressive sys knowledge; troubleshot eng vibe to worn throttle clutch; on-time vital training mission take-off
- Nucleus of flight's training program; eliminated ancillary training backlogs for 36 assigned personnel--superb
---
- Dedicated SNCO--allegiance to mission inspires peers, made this NCO invaluable team member. Promote
- Outstanding team player! Propelled unit to win 2004 "OL of the Year" award--promote immediately!
- Mature and confident airman with extraordinary knowledge and initiative--immediately promote!
- Dynamic airman; multi-talented mechanic; readily accepts increased responsibilities; Promote Now!
- Outstanding NCO who leads by example; a solid professional ready for increased responsibility; promote!
- SrA GXXXXX is a very talented, well trained electronics and systems technician who inspires his peers
- A positive leadership example that consistently brought out the best in subordinates...promote now!
- An earnest airman, exhibits discipline in working towards completion of qualification training
- On site for only seven months, already 65% qualified on workcenter maintenance training tasks
- Rock-solid performer; consistently provides high-caliber maintenance and technical direction
- Inspected, serviced, and repaired aircraft systems--my most dependable and knowledgeable troop
- Good performer, accomplished tasks with minimal supervision; works well with peers; promote (4 rating)
- Confident and dependable, quickly becoming an integral member of the workcenter. Promote.
- Good performer with potential to be an outstanding Airman and a valuable asset; promote with peers (4)
- Star performer! Received only stripe available from 1961st CG/CC for STEP promotion to Tech Sergeant
- Possesses strong record of credibility, loyalty and dedication--true team player--promote now!
- Recent graduate of Airman Leadership School; deserving of new promotion to staff sergeant!
- Recipient of Mission Systems Flight Superior Performer Award for March 05; promote ahead of peers!
- Master of his trade; I rely on his knowledge and expertise on the system configuration; promote
- Absolutely superior NCO; challenge with greater responsibility--must promote immediately to Chief!
- #1 of five NCOs! Outstanding leader and top performer--delivered stellar results during Global War on Terrorism
- Superb radio operator--definitely promote this outstanding and professional operator
- Top-notch technical abilities key for mission support, ready for increased supervisory responsibility--promote!
- Eager to supervise troops! Attended Enlisted Professional Development seminar; honed leadership skills
- Best in command! HQ AFSPC's Financial Management Specialist of the Year for 1997
- A task-oriented, conscientious SNCO--efforts lead to increasing workcenter efficiency and effectiveness
New content is posted daily. Check back tomorrow for more examples.