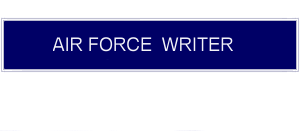 Followership Leadership EPR Bullets
Resource utilization (e.g. time management, equipment, manpower, and budget): Consider how effectively the Airman utilizes resources to accomplish the mission. Complies with/enforces standards: Consider personal adherence and enforcement of fitness standards, dress and personal appearance, customs and courtesies, and professional conduct. Communication skills: Describes how well the Airman receives and relays information, thoughts, and ideas up and down the chain of command (includes listening, reading, speaking, and writing skills); fosters and environment for open dialogue. Caring, respectful, and dignified environment (teamwork): Rate how well the Airman selflessly considers others, values diversity, and sets the stage for an environment of dignity and respect, to include promoting a healthy organizational climate.
- Selected above peers to proffer Sq/CC call; honored 23 mbrs achievements/dignified event--lauded by Sq/CC
- Volunteered for after-hrs school/sports physicals; facilitated screening/care for 178 pts--saved patrons $13.4K
- Helped deliver 5,000+ phone books to Goldsboro community...raised $5K for squadron Top 4 morale prgms
- Supported Habitat for Humanity; painted 2 houses; strengthened community relations/helped those in need
- Organized/participated in 911 ceremony; exemplified military values--guaranteed success of honored tradition
- Demonstrates 100% loyalty and support to chain of command; example contributes to increased shop morale
- Amn Professional Enhancement Seminar Chiefs Panel facilitator; 40 Amn mentored...developed future AF ldrs
- Mbr of Sumter Young Professionals; raised $550 for Boys and Girls Club...provided needed school supplies
- Managed Det security program; employed fail-safe security procedures--$4M operations facility safeguarded
- 5/6 club leader; coordinated security for boxing matches--improved morale of Army and Air Force members
- Recieved an article 15 for reporting to duty intoxicated, and violating a command directed "no contact" order
- Dedicated; flawlessly handled 45,552 stons on 4,207 msns w/o incident--vital spt to ___________
- Sumter County heart walk participant; volunteered 11 hrs--raised $55K for the American Heart Association
- Community oriented; charity golf tournament volunteer--raised $5,200 for Crosswell Children's Home
- Volunteered for ABE uniform fit test; efforts directly affected future design of the AF "War Fighters" uniform
- Meticulous flt safety rep; sect IAW AFOSH stds/zero DSVs in HQ AMC LSAV--vehicle accidents down 66%
- exemplary role model; volunteered over 750 hours to local scouting programs
- Warrior scholar; completed two CLEP tests while deployed--earned 6 credit hours for CCAF degree in avionics
- Judged ROTC drill competition; reviewed/ranked 11 schools; exemplified AF standards for America's next gen
- Ensured the security/processing of XXX at XXX (LOCATION) providing service to XXX personnel
- Outstanding achiever! Awarded AMN/QTR--always professional/positive attitude; true pillar of AF standards
- Lacked core values; received Article 15 for violating CC instructions--set bad example for peers/subordinates
- Escorted 6 DVs, supported USAFE Change of Command & arranged regular visits to VA Hospital
- Exhibited remarkable military bearing/leadership; Directed airmen/Oversaw FP Control Center operations
- Aided Dept of Justice diverted a/c--led security team overwatching 114 prisoners, 80 max security--no escapes
- Standards and professional competence generated immediate confidence/improved subordinate morale
- Peerless uniform and appearance; adheres to AFI--sets example for peers and subordinates
- Takes exceptional pride in personal image and has a meticulous military appearance, wears immaculate inspection-ready uniform on daily basis with a positive attitude and outlook.
- Devoted many hours of off-duty time to ensure unit's training requirements were met; all shop trainees fully qualified in minimum time, significantly improved section's effectiveness
- Exemplary management skill and organizational foresight, personifies allegiance, military bearing, strong code of ethics
- Registered over 40 military and family members to vote; timely actions ensured voter eligibility
- Mature leader; won't compromise standards, enforced highest AETC standards of conduct
- Reviews regulations constantly; sharpens knowledge while providing an honest service to all AMC travelers
- Utilized process improvement techniques; reduced military performance reporting delays by 75%
- Standards and professional competence generated immediate confidence/improved subordinate morale
- Managed 20 personnel workcenter in direct support of U.S. Space Command--exceeded all assigned goals!
- Oversaw On-the-job training program resulting in 6 airmen receiving their upgraded status ahead of schedule
- Instituted new quality control inspection procedures raising customer satisfaction 25%
- Superb uniform--strict adherence to AFI 23-201--sets example for peers
- Absolutely superb leader! Commander selected to participate in $450K Charleston AFB core upgrade
- Briefed junior airmen at Airmen Leadership School on Air Force Evaluation System
- Volunteered to load baggage, operate step truck for POTUS entourage--showcased AMC professionalism
- Top Airman! Selected as the 848th Missile Group Airman of the Quarter for the second quarter 1996
- Positively impacted the lives of over 2,000 children through efforts with the Children's Healthcare Foundation
- Selflessly gave 20 hours to organize & chaperone summer camp trip to Zama Zoo--70 children educated & safe
- Provided setup/security for annual Frostbite Run event--contributions earned $15K for unit's morale activities
- Volunteered for and served as driver for the tour of comm squadron facilities by GTE
- Selected for advancement to E-6 under the Stripes for Exceptional Perormance program
- Organized the 2009 Dining-in, a hallmark event for over 1,000 Airmen and their families; reinforced pride in service and committment of families to Air Force way of life.
- Selected to act as Anti-Air Warfare Commander (AAWC) during critical joint exercise Anvil Tree; stalwart efforts streamlined communications with other members of deployed unit; 100% identification of and immediate response to threat.
- Superior military image led to selection as the AF representative during the AMC tree lighting ceremony
- Misawa AB '08 Airfest Sq booth adjutant; raised $4.5K for unit/bolstered community relations for 110K guests
- Top Airman! Selected as 1922nd CS Airman of the Quarter for the second quarter 2008
- Led by example, conducted bi-weekly PT sessions for 5 flights; increased sq fitness scores
- A dynamic Senior NCO, increased communication between the ranks, increased overall satisfaction at work
- Coordinated, participated in traditional CoC ceremony, participation demonstrated concern for subordinates, ensured traditions and pride endure.
- Managed SABC prgm; oversaw trng rqmt's for 12 pers--guaranteed sq mbr's ready for emergency/wartime ops
New content is posted daily. Check back tomorrow for more examples.