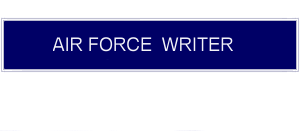 TRAINING EPR BULLETS
Skill Level Upgrade Training: Consider skill level awarding course, CDC timeliness completion, course exam results, and completion of core task training. Duty Position Requirements, qualifications, and certifications: Consider duty position qualifications, career field certifications (if applicable), and readiness requirements. Training of Others: Consider the impact the Airman made to train others.
- Organized/delivered mobile tng to 25 AFRC mx ldrs; prepped for deplymt--lauded by WG/CC-HQ AMC/A4
- Attended Train the Trainer course; increased knowledge/technical skill set-- supervisory PME tier achieved
- Appointed unit Ed/Trng rep; generated SAMMC 4N0 UGT binders; provided trng guidance for 6 AF personnel
- Attended AF/Army professional development class; processed/applied lessons learned; bolstered NCO skillset
- Fully engaged in 5-level upgrade training; certified 100% OJT tasks/2 mo; completed 4N0 CDC; acheiv'd 5 lvl
- Achieved 3 sem hrs twds BA; honed mgmt/ldrshp skills/maintained 3.6 GPA--utilized aptitude/trained 2 Amn
- Eagerly registered for Top III 1206/EPR Bullet Writing Seminar; actively furthered professional development
- Proactively enrolled in two college courses; earned six credit hours towards CCAF Criminal Justice Degree
- Completed four courses towards bachelors of business; earned 16 credit hrs/3.5 GPA--broadened capabilities
- Actively pursued CCAF/Bachelors Degree; completed 3 credit hrs, 6 hrs remain--maintained perfect 4.0 GPA
- Attended DIA SCI Officer's Course; learned all aspects of security...compelling advocate/advisor to command
- Took Risk Mgt for DoD Programs Course; garnered analytical risk mgt tools...sound use of security resources
- Dynamic leader; completed 10-hr financial course--guided 5 Amn in financial responsibility/self-improvement
- Completed PES II; held two mentoring sessions on professionalism--increased work center productivity 30%
- Validated Go/No-GO's 187 flts/454.6 hrs/Green Flag; ensured 65 aircrew prepared for upcoming deployment
- Motivated student; completed 9 sem hrs toward BA Degree program and CCAF degrees--impressive 3.8 GPA!
- Attended AF train the trner crse; explicated knowledge on training amn/documenting 623's--obtained ldr tools
- Monitored 81 ground trng events; reduced overdues by 18%--ensured 120 aircrew members were msn ready
- Dedicated two hours to ACDC NCO mentoring session with young airman; encouraged AF career advancemnt
- Authored AM Trng OI; identified/eliminated redundant task items--trng time decreased by 65% for 13 AMN
- Presided over 2 Airman of the Month boards; mentored Amn on process--groomed 2 winners for group panels
- Completed 17 hrs of base defense/tactical training; ensured zero security breaches--improved wg quality of life
- Completed borescope training/accomplished four of six upgrade tasks; 85% on CDC test--expanded skill set
- Lifesaver! Certified in CPR/AED techniques; essential skills increase lifesaving capabilities base wide
- Completed three CDC volumes 2 wks early; scored 81% on end-of-course exam--ready for five-level upgrade
- Attended 13 wk/26 hr financial class; learned debt/credit/savings planning--ready to teach fiscal responsibility
- Completed English Composition; amassed 3 credit hrs/solid 89% average--61 hrs earned toward CCAF to date
- Increased knowledge; attained 6 Credit hrs towards Criminal Justice Bachelors degree--maintained 3.5 GPA
- Completed five volumes of CDC's; mastered STS tasks ahead of schedule--scored impressive 86% on EOC test
- Education focused; aggressively completed 12 hrs toward BS through XXXX University--maintained X.X GPA
- Thirst for knowledge; read two books on CSAF reading list: "The Middle East" and "Last Chance for Victory"
- Exemplified professional development--completed 12 semester hours towards CCAF--maintained a X.X GPA
- Advanced personal education; CLEP'd 3 credit hrs for CCAF degree in Information Technology--set example
- Tackled challenging two-week tactical weapons course--sharpened marksmanship/combat readiness expertise
- Authored/instructed in-service briefing; 112 personnel trained on 12 ward clerk tasks; raised 4A0 knowledge
- Aced commercial ATM course; improved Standardized Tactical Entry Point data routing support for two COCOMs
- Stand out NCO! Excelled at NCO Academy--earned DG award & vol for and completed COMSEC training
- Assisted in unit tng for ORI; acquired ATSO tng aids for 57 unit mbrs; Wg rated "Outstanding" by HQ AMC IG
- Instructed 3 new team mbrs on pymt tariffs/entitlements; ensured understanding--reduced discrepancies 20%
- Superbeast; complies with training before due setting bar high for a-like shift personel killin it hard!
- Continously excelled in OJT/upgrade training; scored 79% on CDC EOC exam--completed 1 month in advance
- Completed 85 of 105 upgrade/qualification tasks; 50% ahead of schedule, 60% ahead of peers
- Hazardous Material Awareness certified--enhanced skills needed to quickly identify hazardous incidents
- Graduated 40-hr water purification unit training; proven under fire--kept aging units operational during deployment
- Volunteered for generator training; acquired skills needed to operate in expeditionary environment--GWOT ready
- CPR certified--enhanced skills needed to quickly aid deployed team members; 100% qualified for deployment
- Certified Heartsaver AED instructor; trained 30 Airmen--prepared to respond to life-threatening emergencies
- Selected over peers for advanced flight medicine training; enhanced skills increased workcenter efficiency 50%
- Completed CDCs 1 month ahead of schedule; scored 90% on end of course exam--sets the example for peers!
- Goal-oriented; enrolled in Air University Action Officer course; 14 of 27 courses completed, 90% average
- Devoted many hours of off-duty time to ensure the unit's training requirements were met--led by example
-- All shop trainees fully qualified in minimum time--significantly improved sectionís effectiveness
- Identified on-line availability of common Air Force ancillary training requirements
--Increased qualification rate by 60% squadron-wide
- Qualified 36 security personnel in ID camera system operation--multiplied section efficiency
- Enrolled at University of Maryland; finished 4 courses w/3.5 GPA--merited 12 college credits towards CCAF
- Instructed six Records Management classes for squadron--improved efficiency evident by inspection results
- Completed CDCs 2 months early; upgrade trng 100%; earned 12 college credits w/3.5 GPA towards CCAF
- Modernized sectionís outdated process for tracking safety issues--logging rate now at 100% for first time
- Revived the Squadron's Report of Survey program--aggressive follow-up and adherence to standards reduced investigation time;best program on base
- Coordinated with squadron and base training managers to manage ancillary training program for over 250 squadron members
- Utilized process improvement techniques; increased military performance reporting timelines from 78% to 97%
- Improved squadron adherance to training regiment; eliminated delays for deployment due to lack of qualification
- Helped reorganize section into efficient, streamlined shop--zero late reports for all training requirements
-- Spearheaded campaign to increase efficiency--took charge for cover train inputs and training documentation
- Comptia Network+ certified; grad level tng completed 18 months early--met cyber-critical DoD requirements
- Trained junior personnel in mobilization preparation/processing; negated need for TDY tng, saved unit $25K
New content is posted daily. Check back tomorrow for more examples.