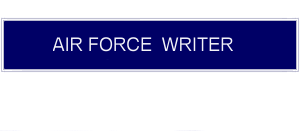 LOR Example for PT Failure
15 April 2011
MEMORANDUM FOR SrA SMITH, 7646
FROM: SCMJ
SUBJECT: Letter of Reprimand, Failure to Maintain Standards
1. On 12 April 11, during the squadron fitness assessment, your composite fitness score was less than 70. This is the second time you have scored less than the minimum required during a scheduled PT evaluation. In addition, your participation in the Fitness Improvement Program has not been satisfactory; you have failed to consistently maintain your AF Form 1975, Fitness Improvement Activity Log. In accordance with AFI 10-248, attachment 13, I am required to document your failure to improve. Note that failure to maintain a personal fitness program or prepare for fitness evaluations demonstrates a lack of discipline which is incompatible with Air Force standards.
2. IAW AFI 10-248, the unit commander is required to take administrative action for members that have a composite fitness score of less than 70 for more than 180 days and for each subsequent composite fitness score of less than 70 if no improvement is made. The Commander will review your eligibility for reenlistment, retraining, formal training, promotion, and other personnel actions.
3. You must increase your efforts in the Fitness Improvement Program, properly document your participation, and score more than 70 during your next assessment. Failure to improve and meet fitness standards is a serious condition that will immediately affect your career. The Commander is required to make a discharge or retention recommendation for Airmen who remain in the poor fitness category for a continuous 12-month period.
4. The following information required by the Privacy Act is provided for your information. AUTHORITY: 10 U.S.C. § 8013. PURPOSE: To obtain any comments or documents you desire to submit (on a voluntary basis) for consideration concerning this action. ROUTINE USES: Provides you an opportunity to submit comments or documents for consideration. If provided, the comments and documents you submit become a part of the action. DISCLOSURE: Your written acknowledgement of receipt and signature are mandatory. Any other comments or documents you provide are voluntary.
5. You will acknowledge receipt of this letter by signing below. You have three (3) duty days from the day you received this letter to respond but a response is not required. If you do respond in writing, that response will become part of the official record.
John S. Smith, TSgt, USAF
Shift Supervisor