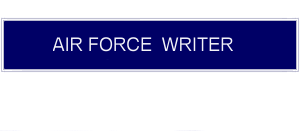 Abbreviations for the EPR
In an ironic twist that defies logic, there is no formal or official guidance when it comes to using abbreviations in EPRs. Below is what one generous reader submitted as local guidance for their unit:
Here is what we use for our unit.

$35M or $35 million
group commander or Gp/CC or Group CC
1st, 2nd, 3rd, 4th Quarter or Qtr, 2004 or '04
** hand-picked or handpicked
11 September 2001
** hand-selected or hand selected
24-hour coverage or 24 hours
HELPING HAND
25 courts martial
** high-interest or high interest
30 Article 15s
** high-priority or high priority
99+%
Highly Qualified or HQ
* Airmen
** largest-ever or largest ever
battlestaff or 91 SW Battlestaff
MIGHTY GUARDIAN III
Beddown
** mission-ready or mission ready
bombs on target
Nuclear Surety Inspection
CDRUSSTRATCOM
Operation ENDURING FREEDOM
crew member
Operation IRAQI FREEDOM
Combat Capability Assessment
Operational Readiness Inspection
Commander in Chief
"Outstanding" rating
Compliance Inspection
pre-departure or 91 OG Pre-Departure
Congressional staff
Professional Performer or Professional Team
day-to-day operations
Protection Level 1
Distinguished Graduate or DG
selectively-manned position
Downtime
"Service Before Self"
e-mail
"Excellent" rating
** SOS in residence or in-residence SOS
"exceptional performance"
squadron commander or Sq/CC or Squadron CC
Exercise GLOBAL GUARDIAN
warfighter
** first-ever or first ever
wing commander or Wg/CC or Wing CC
** first-rate or first rate
** wing-wide or wing wide
flight commander or Flt/CC or Flight CC
worldwide

* Per new CSAF guidance "Airmen" is capitalized when it used as an all-inclusive term, referring to all ranks within the AF.
- Inclusive example: "Commanders must help our Airmen understand the purpose of SRBs."
- Specific example: "There are five airmen assigned to the flight."
- Specific example: "The airman stopped his vehicle at the front gate."

** Hyphens are used when the word combination is used as a modifier.

Abbreviations
Use Merriam-Webster's Collegiate Dictionary for abbreviations. If an abbreviation does not appear in the dictionary, it must be recognizable. Remember you are writing for an audience who may not be familiar with your specific career field. Write so that anyone can understand what you are saying. Recommended abbreviations are listed below for standardization:
. Use CC or CDR for commander
. Use mnx (not mx) for maintenance
. Use trng (not tng) for training
. Use FY04 (not FY 04)
. Use CY04 (not CY 04)
. Use stan/eval not TTV when referring to inspections
. Use gp for group
. Use sq for squadron
. Use prgm (not prog) for program
. Use addnl for additional
. Use mgr for manager
. Use mgt for management
. Use reqd for required; reqmt for requirement
. Use govt for government
. Use mo for month
. Use yr for year

91st Space Wing Acronym List

AEF NASA
AF NBC
AFAF OPR
AFAM ORI
AFB ORM
AFCM OT&E
AFI PME
AFIT POTUS
AFSPC QAE
BDE SDE
CDRUSSTRATCOM (used in body of a memo) SECAF
CJCS SECDEF
DoD SOS
DoE START
EPR US (not U.S.)
HHQ USSTRATCOM or STRATCOM
HQ (Highly Qualified or Headquarters)
USSTRATCOM/CC (used in the "TO:" element of a memo)
ICBM VPOTUS
IDE WarFit
IG WIC (Weapons Instructor Course)
JCS WMD
MSM

* The above acronyms are generally acceptable on all documents, when used in the proper context; however, this is not an exclusive list. Other acronyms may be acceptable in certain circumstances. Multiple factors must be considered when deciding on the use of an acronym. These include: the intended reader, the format, the forum, the type of document and the context. The key to remember is that the intent is for the document to be easily understood