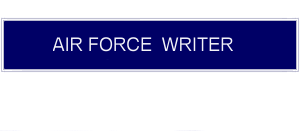 Biography/Bio
There are several types and formats of bios. Bios are used for informal purposes such as maintaining information for the Flight or Squadron Commander or more structured, formal requirements such as award submissions. We need more examples. If you have one, please donate for the cause. Thanks!
---
Bio Example: CAPTAIN EVANGELINE JONES
Captain Evangeline Jones is a Clinical Nurse, Family Health Clinic at Wilford Hall Surgical Center at Lackland AFB, Texas. As a clinical nurse, she is responsible for coordinating patient care for a defined enrolled population through a continuum in order to achieve optimal patient outcomes in relation to clinical care, quality and cost-effectiveness. She provides direct clinical care to patients requiring the intervention of a professional nurse, triages patients who present on a walk-in basis ensuring appropriate level of care provided. Captain Jones provides risk factor counseling and preventive service to include Health and Wellness center or other prevention programs as appropriate.
Captain Jones entered as direct commission on March 2013 and went to Commissioned Officer Training at Maxwell Air Force Base in Montgomery, Alabama. Captain Jones completed her Bachelors in Science of Nursing at Goldfarb Nursing School Barnes Jewish College at Saint Louis, Missouri. She took the accelerated Bachelors of Science in Nursing which she completed in one year and 3 months. Her first bachelor s degree was Behavioral Sciences completed last November 1994 in Manila Philippines. Captain Jones had her Masters of Science in Human Resources Management in 2003 at Troy State University in Montgomery, Alabama. Prior to her current position, she worked as Clinical Nurse at Medical Surgical Unit Orthopedics at San Antonio Military Medical Center.
Captain Jones was deployed in Bagram, Afghanistan last October 2014 till April 2015 in support of Operation ENDURING FREEDOM and FREEDOM S SENTINEL where she responded to 52 rocket attacks and three mass casualty events involving 36 patients. She served as a care team leader and charge nurse leading 27 staff and providing expert and quality nursing care to 2,200 patients.
EDUCATION
1994 Bachelors of Science degree in Behavioral Sciences, Polytechnic University of the Philippines, Manila Philippines
2003 Masters of Science in Human Resources Management, Troy State University, Montgomery, Ala
2011 Bachelors of Science in Accelerated Nursing, Goldfarb School of Nursing Barnes Jewish College, Saint Louis, Missouri
2013 Commissioned Officer Training, Maxwell Air Force Base, Montgomery, Ala
2014 Critical Care Combat Course, Camp Bullis, San Antonio, Texas
2016 Nursing Service Management, Fort Sam Houston, Texas
ASSIGNMENTS
1. March 2013-April 2013, student, Commissioned Officer Training, Maxwell AFB, Montgomery, Alabama
2. April 2013-October 2014, Clinical Nurse, Medical Surgical Unit- Orthopedics Unit, San Antonio Medical Military System, Fort Sam Houston, Texas (October 2014-April 2015, Clinical Nurse, Intermediate Care Ward, Craig Joint Theatre Hospital, Bagram Air Base, Afghanistan)
3. December 2015-present, Clinical Nurse, Family Health Clinic, Wilford Hall Surgical Center, Lackland Air Force Base, Texas
MAJOR AWARDS AND DECORATIONS
Air Force Commendation Medal
Meritorious Unit Award
Air Force Outstanding Unit Award with oak leaf cluster
National Defense Service Medal
Afghanistan Campaign Medal with four bronze stars
Global War on Terrorism Service Medal
Air Force Expeditionary Service Ribbon with Gold Border
Air Force Training Ribbon
NATO Medal
OTHER ACHIEVEMENTS
2013 Honor Flight and Honor Squadron , Commissioned Officer Training 13-03
2014 Good Catch Award

EFFECTIVE DATES OF PROMOTION
2nd Lieutenant, June 2012-June 2014
1st Lieutenant, June 2014-June 2016
Captain, June 2016-present
---
Below is the format required for submission for awards with AF Form 1206
Ref AFI 36-2805 Special Trophies and Awards - Attch 2
(SAMPLE - BIOGRAPHY)
SENIOR AIRMAN JOHN Q. DOE
123-45-6789
AFSC: 3M031, Services Apprentice
Senior Airman John Q. Doe is a Services Apprentice assigned to the Ford's Dining Facility as a shift leader, Jones Air Force Base, Texas. He is 27 years old. Airman Doe was born in Lexington, Kentucky, on 1 August 1966. He attended Central High School, graduating as class salutatorian in May 1984. He lettered each year in football, basketball, and baseball. He served as student body president and was a member of the math and science club. After graduating from high school, Airman Doe was locally employed. He served as a church council officer for the Good Shepherd Church in Covington, Kentucky. He subsequently enlisted in the Air Force in 1990 and arrived at Lackland AFB, Texas, in October 1990 for basic training. Upon graduation, he received a direct-duty assignment to the First Services Squadron, Jones AFB, Texas, arriving in December 1990. Since arriving at Jones AFB, he has served in a variety of positions, including store room clerk and his current assignment. Airman Doe is an active member of the Big Brothers Association and assisted in his unit's Thanksgiving dinner to feed the homeless this past year. His military awards include the National Defense Service Medal and the Air Force Training Ribbon. He attends Lucas College in Smith, Texas, and is working toward a Bachelor's Degree in Business Administration.
NOTE: Single-space the narrative portion of the biography. Double-space between name, SSN, and AFSC.
---
Here's an example of the type of bio commonly required by squadrons to maintain personl information on file for the Commmander.