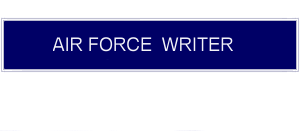 Unit Deployment Manager Citations
Sergeant Arnold's professional skill, knowledge, and leadership aided immeasurably in preparing for the Operational Readiness Inspection resulting in an overall Excellent rating, the best rating in over five years. Prior to the inspection, Sergeant Arnold volunteered for a 17-day tour to ensure 31 members were trained, equipped, and fully qualified and performed a review of over 100 mobility folders and re-formatted them IAW AFI 41-106, resulting in zero discrepancies. She also ensured all members were current in readiness requirements such as medical, dental, fitness, and security clearance factors, resulting in members being 100% ready. She facilitated the unit Readiness Deployment processing line by recalling members to their specified timeframe, leading a cohesive review of folders and equipment, and coordinating transportation for transition to the pickup location. In addition, Sergeant Arnold stood up and managed the Unit Deployment Control Center and developed a schedule and process for effective and timely communication and continuity, while maintaining contact with the Deployment Control Center. Sergeant Arnold also volunteered to man the Unit Deployment Control Center in garrison, performing 12-hour shifts consecutively to maintain operational readiness and in-garrison strategic measures for the pre-deployment, deployment, and re-deployment phases, thus ensuring an efficient process for the 31 deployed members. The distinctive accomplishments of Sergeant Arnold reflect great credit upon herself and the United States Air Force.
---
Captain James D. Doolittle distinguished himself by outstanding achievement as Unit Deployment Manager, 94th Operations Group, 94th Air Wing from 15 August 2009 through 20 September 2012. During this period he was responsible for all aspects of the unit's wartime tasked mission packages including 33 personnel and four equipment Unit Type Codes (UTCs). He provided real world support by personally managing real word deployment taskings of Intel personnel to Creech Air Force Base in support of AFRC's initial involvement with Unmanned Aerial Vehicles (UAVs) and to Al Udeid Air Base, Qatar for on-going CENTAF missions. He artfully managed the constantly increasing wartime UTCs and established a rock solid foundation for the Wing's imminent conversion to C-130 Combat duties. The distinctive accomplishments of Captain Doolittle reflect credit upon himself, the Air National Guard, and the United States Air Force
---
As Flightline Security Manager, Materials Handling Equipment monitor, and Unit Deployment Manager, he provided detailed training, licensing, and review of key operational readiness requirements for his squadron. Sergeant Yeager singlehandedly developed an aircraft loader course with scenarios specifically tailored to meet the aerial port needs at deployed locations throughout the world. Furthermore, his expertise in operating Army mission essential vehicles during aircraft downloads significantly strengthened the unit training program and improved the unit's wartime readiness. While TDY to Hickam Air Force Base, Hawaii, Sergeant Yeager served as a load team chief where the team safely loaded and off-loaded 1,200 tons of cargo on 128 various types of cargo aircraft with zero safety mishaps. His team's efforts ensured 100 percent on-time takeoffs, far exceeding Air Mobility Command's expectations. Finally, at Joint Base Balad, Iraq, in support of Operation IRAQI FREEDOM, Sergeant Yeager contributed to the expeditious movement of 42,000 short tons of cargo on 5,100 missions throughout the region with an impressive 99 percent on-time aircraft departure rate. The distinctive accomplishments of Sergeant Yeager reflect credit upon himself and the United States Air Force.
---
Master Sergeant Carl A. Spaatz demonstrated outstanding leadership in a unique joint unit as 55th Operations Group Deployment Manager from April 2012 to August 2014. As Group Deployment Manager for one of the Air Force's largest composite wings, he coordinated 13 higher Headquarters deployment taskings in support of Operation Enduring Freedom and Operation New Dawn. As Squadron Unit Deployment Manager and ORE/ORI training manager, he established a high level of squadron readiness by expertly managing 200 current events for 160 squadron and operations group personnel. His efforts increased the squadron's ability to comply with the IG's requirements as well as provide highly qualified, deployment-ready personnel, resulting in an ACC IG rating of Excellent. While deployed from October 2012 to March 2013, he served as Operations Superintendent for the Joint Airborne Battle Staff. He led the detachment's 23 enlisted Soldiers, Sailors, and Airmen and organized them into an effective combat ready force. Further, he assisted the Operations Officer in his duties and advised him in all matters related to aerial operations. His efforts were vital to ensuring daily operations of the detachment were accomplished in a timely manner. The distinctive accomplishments of Master Sergeant Spaatz reflect credit upon himself and the United States Air Force.