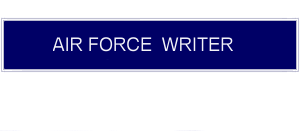 Cryptologic Language Analyst Citations
Senior Airman Wanda P. Lloyd distinguished herself by meritorious service while assigned as Cryptologic Language Analyst, 3d Intelligence Squadron, Air Force Intelligence, Surveillance, and Reconnaissance Agency, Fort Gordon, Georgia from XXXXXXXXX to XXXXXXXXX. During this period, Airman Lloyd utilized her superior analytical skills to track 89 high value targets, ultimately leading to the detention or elimination of eight targets and increased coalition security. In addition, she excelled during 12 Intelligence, Surveillance, and Reconnaissance operations, where she issued 33 perishable and 22 time-sensitive reports, ensuring the safety of 23 combat brigades. Senior Airman Lloyd was responsible for over 500 threat tippers to deployed United States forces which preserved countless lives. Her keen situational awareness facilitated the identification of previously unidentified links to an international terror group, preventing a series of improvised explosive device attacks on coalition forces. Finally, Airman Lloyd's organizational skills reduced delays for the prioritization of lucrative targets by monitoring current activity for indications and warnings. The distinctive accomplishments of Senior Airman Lloyd reflect great credit upon herself, the 3d Intelligence Squadron and the United States Air Force.
---
Staff Sergeant Roger C. Correll distinguished himself by meritorious service as the NCOIC of the Cryptologic Services Group (CSG), 450th Intelligence Squadron, 693d Intelligence, Surveillance, and Reconnaissance (ISR) Group, Ramstein Air Base, Germany from XXXXXXXXX to XXXXXXXXX. During this period, Sergeant Correll superbly directed force protection efforts in support of 3rd Air Force operations, ensuring the safety of over 1,000 deployed military personnel. Additionally, his superior analytical abilities enabled him to fuse information from multiple intelligence platforms, resulting in the targeting of three high-value targets and 21 successful strike operations on insurgent camps. Sergeant Correll's proactive and deliberate analysis and networking abilities obtained a two million dollar National Security Agency analytical system, a $20,000 analysis software upgrade, and a $20,000 computer enhancement package which increased intelligence efficiency at no cost to the Squadron. In addition, as an ambassador to the base and local community, he led by example, instructing 13 members during Self Aid and Buddy Care training, leading Squadron physical fitness sessions, volunteering off-duty time as a designated driver for the AADD program, and serving as a role model and mentor for the local Boy Scouts organization. Finally, Staff Sergeant Correll was recognized as the 70th Intelligence Wing's NCO of the Year. The distinctive accomplishments of Sergeant Correll reflect credit upon himself and the United States Air Force.