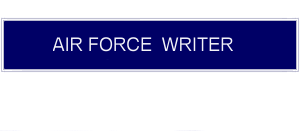 Manpower and Assignments Citations
Captain Scott W. Vermeire distinguished himself in the performance of outstanding service to the United States as Chief, Director's Action Group, and Deputy Chief, Senior Leader Management Office, Directorate of Manpower, Personnel and Services, Headquarters Air Force Materiel Command, Wright-Patterson Air Force Base, Ohio. During this period, Captain Vermeire's creative problem solving, team building and ceaseless efforts ensured the successful stand up of the Director's Action Group and the completion of numerous critical projects. He streamlined cumbersome staff processes by ensuring collaboration resulting in higher quality, a complete site picture, and 50 percent less kickbacks. Additionally, Captain Vermeire was hand selected to fill a critical void in the toughest MAJCOM Senior Leader Office in the Air Force. In that capacity, he revitalized the Command's nuclear enterprise, a Secretary and Chief of Staff of the Air Force mandate. He and his team identified key senior leader billets for nuclear enterprise build-up and orchestrated record fast fills to avoid manning gaps. Captain Vermeire masterfully directed the Command's O-6 game plan assignment process by validating 100+ Command requirements and matching 147 Colonels world-wide. The singularly distinctive accomplishments of Captain Vermeire reflect great credit upon himself, Headquarters Air Force Materiel Command and the United States Air Force.
---
Major Sierra F. Berthaud distinguished herself in the performance of outstanding service to the United States as Chief, Homeland Security Operations, while assigned to the Headquarters, Air Force Surgeon General, Medical Operations Center, Pentagon, from XXXXXX XXXXXX to XXXXXX XXXXXX. During this period, Major Berthaud directed the Air Force National Disaster Medical System consisting of four Federal Control Centers and one Primary Receiving Center, providing over five thousand in-patient beds on short notice. In this important assignment, she directed the proactive activation of three Patient Reception Areas, managing 1,700 in-patient beds in support of the Haitian Presidential Election. Moreover, Major Berthaud was a key contributor to the Air Force's humanitarian responses to the earthquakes in Haiti and Chile, directing the actions of 267 deployed medics and two ten-bed Expeditionary Medical Support hospitals. Additionally, Major Berthaud organized the transfer of the Global Force Management process from Headquarters Air Force to Headquarters Air Combat Command, successfully transitioning the sourcing requirements for over 6,000 Active Duty and Air Reserve Component Unit Type Code requirements and impacting over 35,000 Airmen. The distinctive accomplishments of Major Berthaud reflect great credit upon herself, Headquarters, Air Force Surgeon General, and the United States Air Force.