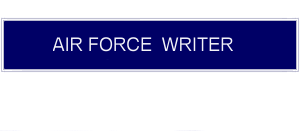 Postal and Mail Clerk Citations
Airman First Class Asia D. Phillips distinguished herself by outstanding achievement as Military Postal Clerk, Operating Location D, Bahrain Mail Control Activity, Ninth Air Force (Air Forces Central), Manama, Kingdom of Bahrain. During this period, in support of Operations INHERENT RESOLVE, FREEDOM'S SENTINEL, and Resolute Support mission, Airman Phillips provided subject matter expertise in the command's largest postal transportation hub through the validation of 2,000 air carrier flights and the deliverance of 5 million pounds of mail across 24 bases in support of 80,000 deployed service members. Additionally, she oversaw the Bahraini customs mail security screening procedure in which she identified and reported 1,000 postal offenses and coordinated with the Defense Logistics Agency to properly isolate and dispose of 2,200 pounds of hazardous material. Her efforts reinforced a $475 million airline operation and aided in the safety of 112 warehouse cargo personnel. Furthermore, Airman Phillips redirected one million pounds of retrograde mail and cargo for the Royal Jordanian Operations, alleviating postal delays and clearing a seven day mail backlog for the United States' third busiest airport hub. Finally, her unwavering commitment and exemplary professionalism led to her being coined by the Naval Criminal Investigative Service for her efforts in transporting the personal belongings of fallen soldiers. This recognition culminated in her being honored with the prestigious Top Performer of the Month award. The distinctive accomplishments of Airman First Class Phillips reflect credit upon herself and the United States Air Force.
---
Senior Airman Brett J. Benson distinguished himself by meritorious service while assigned as Military Postal Clerk, 447th Expeditionary Communications Squadron, 447th Air Expeditionary Group, 321st Air Expeditionary Wing, Sather Air Base, Iraq from XXXXXXXXXX to XXXXXXXXXX. During this period, Airman Benson deployed to Iraq in support of Operation NEW DAWN and provided vital postal support for the entire installation and tenant units. He supervised a six-man team that received and dispatched over 150,000 pounds of mail monthly, facilitating parcel delivery to 29 unit mailrooms across Sather Air Base within one hour of arrival. In addition, he managed a seven hundred dollar flexible credit and stamp stock account and processed over 20,000 dollars in postal transactions, exceeding United States Postal Service one percent tolerance standard during six quality control audits. Finally, Airman Benson oversaw the registered mail section where he processed over a hundred registered mail items and ensured one hundred percent accountability. The distinctive accomplishments of Senior Airman Benson reflect credit upon himself, the 447th Expeditionary Communications Squadron, and the United States Air Force.
---
Senior Airman Elizabeth A. Hobson distinguished herself by meritorious service while assigned as Postal Clerk, 35th Communications Squadron, 35th Mission Support Group, Misawa Air Base Japan, from XXXXXXXXXX to XXXXXXXXX. During this period, Airman Hobson distributed over 40,000 letters and parcels, accurately delivering them during prime hours and making them available to patrons one hour after arrival. She processed both stateside and APO bound mail, generating $200,000 in postage revenue, and providing prompt U.S. Postal Service for over 5,000 customers. Additionally, she deployed to Al Udeid Air Base, Qatar, where she served as a member of the AOR's largest APO, processing more than 170,000 pounds of mail supporting 9,000 warriors across 56 units. Further, she inspected 1,200 mail boxes weekly and scanned 3,000 parcels for explosive residue contributing to an "Outstanding" rating for the 2013 PACAF Postal Operations Inspection. The distinctive accomplishments of Senior Airman Hobson reflect credit upon herself, the 35th Communications Squadron, and the United States Air Force.