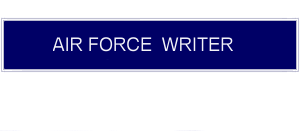 Search and Rescue Citations
Staff Sergeant Sylvia Herrera distinguished herself by meritorious service while serving as a Search and Rescue Duty Officer, Air Force Rescue and Coordination Center, Tyndall Air Force Base, Florida from XX XXXX XXXX to XX XXXX XXXX. During this period, the professional skill and ceaseless efforts of Sergeant Herrera directly resulted in 345 lives saved. Her proven expertise and meticulous attention to detail in coordinating local, State, and Federal assets contributed to the effectiveness and success of 1,889 search and rescue events and 922 missions which preserved over ten million dollars in property and more than 3,000 lives. In addition, Sergeant Herrera's keen knowledge of organic resources and response capabilities proved invaluable to the combined efforts of the United States Navy, Air Force, and Coast Guard, and State Law Enforcement in the rescue 320 flood victims stranded after three days of intense rain that closed roadways, generated mudslides, and destroyed homes in Washington state. Moreover, as the Reports NCO, Staff Sergeant Herrera played a vital role in sustaining the mission and planning for future events. She reviewed and corrected 4,333 incidents to co-author the Air Force Rescue Coordination Center annual report. The singularly distinctive accomplishments of Sergeant Herrera reflect great credit upon herself, the Air Force Rescue and Coordination Center, and the United States Air Force.
---
First Lieutenant Grant A. Wahlquist distinguished himself by meritorious service while serving as Intelligence Officer, 106th Operations Support Flight, 106th Rescue Wing, F.S. Gabreski Airport, Westhampton Beach, New York, from XX XXXXX XXXX to XX XXXXXXXX XXXX. During this period, Lieutenant Wahlquist, volunteered for multiple deployments in support of Operation ENDURING FREEDOM and the Global War on Terrorism. He supported four weapon systems in three Areas of Responsibility (AOR) which included the Wing's Combat Search and Rescue (CSAR) HC-130, HH-60, Pararescueman assets in Africa and Afghanistan, and a Marine KC-130 in Turkey. Additionally, to prepare crews for deployment, he developed relevant AOR-specific combat scenarios for aircrew verification training and performed extensive research to develop aircrew deployment briefings specific to three weapon systems directly increasing combat effectiveness and safety. Further, in support of 14 HH-60 MEDEVAC and CSAR alert missions in Afghanistan, Lieutenant Wahlquist passed time-sensitive intelligence to crews in three geographically separated locations, resulting in the rescues of Afghan local nationals, International Security Assistance Forces, and U.S. soldiers totaling 139 lives saved. Finally, while deployed, he provided vital intelligence support to include briefing staff members on current intelligence assessments, mission planning assistance, briefing and debriefing of aircrews, and repatriation duties. The distinctive accomplishments of Lieutenant Wahlquist reflect great credit upon himself, the Air National Guard, and the United States Air Force.
---
Technical Sergeant Bryan G. Kaanta distinguished himself by meritorious service while serving as Alpha Flight NCOIC, 38th Rescue Squadron, 347th Rescue Group, 23rd Wing, Moody Air Force Base, Georgia from XXXXX XXXXX to XXXXX XXXXX. During this period, Sergeant Kaanta deployed as Guardian Angel NCOIC and Team Leader for three deployments to three separate areas of responsibility. He was a key leader in the Air Expeditionary Group bare base start, standing up the Guardian Angel team in under 24 hours and organizing the combat search and rescue guidance in support of Libya's no-fly zone, merging three military weapons systems for the first such operation in decades and facilitating the defeat of Gadafi's regime. Additionally, as the NCOIC of the first-ever joint Africa and European Command Guardian Angel Expeditionary Squadron in support of Operation UNIFIED PROTECTOR, he managed 15 personnel, two million dollars in assets, and two bases. Moreover, he developed C-130, HH-60, and military freefall concepts of operation which were key to synchronizing NATO assets, establishing combat search and rescue standard operating procedures, and optimizing the operations' personnel recovery capability. Further, he led his team on six preposition operations covering 600 alert hours, 230 vehicles, 545 personnel and providing around-the-clock personnel recovery coverage for six high-value operations. Finally, he provided 600 hours of personnel recovery alert supporting 1.1 million square miles in support of Operation JOINT AIR DEFENSE ARABIAN GULF. The distinctive accomplishments of Sergeant Kaanta reflect great credit upon himself, the 38th Rescue Squadron, and the United States Air Force.
---
Senior Airman Matthew R. Weber distinguished himself by meritorious service as Pararescueman, 60th Rescue Squadron, 332nd Air Expeditionary Wing, Joint Base Balad, Iraq. It is not just infantrymen and gunners who display bravery on the battlefield. Oftentimes, those in support roles, -logisticians, medics, reconnaissance experts -display unbelievable courage as they are called on to help those on the frontlines. Their training prepares them to answer the call of duty, to help their fellow brothers-in-arms, no matter the cost -even if that cost is the ultimate sacrifice, death. Senior Airman Matthew Weber became an Air Force pararescueman because he wanted to help others. As a combat medic, his job was often dangerous, but allowed him to help those most in need -injured servicemen and women. On March 4, 2010, Airman Weber was the medic assigned to a quick reaction force headed for the Al Asad mountain in the Balad province in Afghanistan. Their mission was to search for and rescue a SEAL who had been thrown from a helicopter during a confrontation with Taliban and al Qaeda forces. Enemy forces were waiting for the expected search and rescue team to arrive. As Weber and his unit approached the mountain, al Qaeda fighters began shooting at their Chinook using RPGs. A direct hit ripped into the helicopter, forcing it to the ground. Members of the team sustained injuries on impact, but they had no time to stop and treat the wounded as the enemies began a heavy volley of fire toward them. Those not injured spread out and took cover, leaving Weber and another medic to treat the wounded in an exposed position. Weber's attention was focused on what he cared about most -the 10 wounded servicemen. With enemy bullets whizzing past, he ran through the line of fire seven times to the burning helicopter to grab the wounded and move them to a safer location. Not even heavy explosions from mortars or small arms fire stopped him from doing his job; he continued to treat the injured -some whose wounds were not as severe as his. As his condition worsened, he instructed the other medics on how to treat the injuries of his fellow servicemen. Weber's injuries proved critical, but his actions saved the lives of the 10 seriously wounded Americans. For his actions in Al Asad, Senior Airman Weber was awarded the Gallant Service Citation on April 25, 2011, an award fourth only to the nation's highest award, the Medal of Honor.