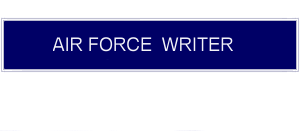 Ref AFI 36-2606, Renlistment in the USAF
Request for Approval of Extension of Enlistment
MEMORANDUM FOR 1922nd MX/CC
FROM: 1922nd MX/SCM
SUBJECT: Approval of Extension of Enlistment
1. &nbsp I request approval of my application to extend my enlistment in order to obtain sufficient retainability for my scheduled PCS.
2. &nbsp I certify that this is my first extension of my current enlistment and I meet all qualifications for PCS to Kadena AB. In addition, I have no circumstances that make me ineligible for assignment such as legal obligations, a UIF, or placement on a Control Roster.
3. &nbsp I understand that once I enter this extension, I cannot cancel it but I may be eligible to request separation or immediate reenlistment. I also understand that my reenlistment eligibility will be determined by the policies in effect at the time I request reenlistment.
FIRST M. LAST, SSgt, USAF
Mechanic, Maintenance and Operations
(Signature blocks are 5 spaces below
last line of text.)
1st Endorsement, (OFFICIAL TITLE), (UNIT)
MEMORANDUM FOR (ORG/UNIT)
(ORG ADDRESS BLOCK)
Concur/ Non-concur
Commander's Signature
Commander's Signature Block