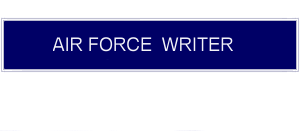 Reconsideration for Failure to Qualify
MEMORANDUM FOR 448 AWS/CC
FROM: 448 AWS/SCM
SUBJECT: Request for Reconsideration
1. &nbsp I request reconsideration of my status as____________________.
2. &nbsp As a candidate for reclassification as Flight Engineer, I was required to meet several stringent requirements. I met five of six standards. Because of a prior incident, my records did not meet the performance history standard.
3. &nbsp Although I did not technically meet the performance history standard, I feel that the requirement may be unnecessarily broad and that it may not have been intended to include minor offenses such as administrative reprimands. Even so, I admit I made mistakes in the past but I have learned from those missteps and now consider myself to be more dedicated, more reliable, and more qualified for the position of Flight Engineer than many members already performing that duty. Further, my ratings in the other five categories are above average and demonstrate my qualification for this duty. If allowed time to do so, I will make every effort to have my records reviewed and have the offending entry removed so that my records will comply with the requirement. If given the opportunity, I will work hard to prove myself and make your decision to allow me to continue work toward reclassification a sound one.
FIRST M. LAST, SSgt, USAF
Avionic Mechanic, Maintenance and Operations
(Signature blocks are 5 spaces below
last line of text.)
1st Endorsement, (OFFICIAL TITLE), (UNIT)
MEMORANDUM FOR (ORG/UNIT)
(ORG ADDRESS BLOCK)
Concur/ Non-concur
Commander's Signature
Commander's Signature Block