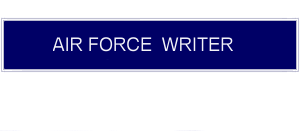 Air Force Letter of Reprimand
DEPARTMENT OF THE AIR FORCE
18TH WING (PACAF)
KADENA AIR BASE JAPAN
15 Jul 12
MEMORANDUM FOR MASTER SERGEANT JOHN A. DOE
FROM: 18MSS/DPM
SUBJECT: Letter of Reprimand (LOR)
1. Investigation has disclosed that you were disrespectful to 1st Lieutenant Erik Cunningham, a superior officer, by stating in an e-mail, "after sitting down and talking with this kid and learning of the problems he's been having..." and "I took him by the hand and showed him what he needs to do and now the workcenter is improving." on or about 11 Jul 12 at Kadena AB.
2. You are hereby reprimanded. All NCOs must maintain exemplary standards of conduct, including respect and courtesy toward others, and loyalty to the chain of command. I will not tolerate disrespect from anyone in this organization toward any of their superiors. Your disrespect has been detrimental to unit morale and the discipline of this organization. You will not repeat such conduct. If you do, expect more serious consequences.
3. AUTHORITY: 10 U.S.C 8013. PURPOSE: To obtain any comments or documents you desire to submit (on a voluntary basis) for consideration concerning this action. ROUTINE USES: Provides you an opportunity to submit comments or documents for consideration. If provided, the comments or documents you submit become a part of this action. DISCLOSURE: Your written acknowledgment of receipt and signature are mandatory. Any comments or documents you provide are voluntary.
4. You will acknowledge receipt by signing and return this letter to me within three workdays of your receipt. Any comments or documents you wish to have considered concerning this LOR will be included with your response.
NATHAN S. SMITH, 1Lt, USAF
Director, Career Enhancements
---
(NEXT PAGE)
1st Ind to LOR dated 15 Jul 12 to MSgt John Doe Date: ___________
TO: 18MSS/DPM
Receipt acknowledged this date. Contents noted. I (do) (do not) desire to comment on the allegation(s). I (have) (have not) attached statements or documents which I desire to be considered.