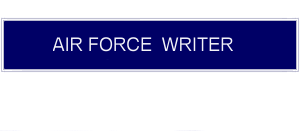 Memo for Record (MFR) for Counseling
An MFR is not, by nature, a corrective tool. It's just a type of document like the personal letter or official memorandum. Of all the Air Force document formats, it is the simplest, requiring very little format which is why it's commonly used to jot down notes in the workcenter.
A Memo For Record or MFR, when used for this purpose, is merely an informal note to remind the supervisor that he spoke to an Airman about a certain topic on a specific date. It's only for the supervisor's use and the offender doesn't have to sign it. Normally the offender will not even know it exists. The MFR may also serve as evidence of the person's offensive behavior if needed to justify more serious administrative action.
Format
The Memorandum for Record or MFR is used as an informal, in-house document. People working in the same workcenter usually pass information back and forth verbally but sometimes it needs to be recorded and filed for future reference. Due to its simplicity, a Memo for Record is perfect for this purpose. It records information that is usually not recorded in writing such as phone messages or briefing notes. The lack of formal format requirement encourages documentation and makes it the appropriate method for documenting day-to-day work center actions.

The Memo For Record can be typed or hand-written on plain bond paper or squadron letterhead. Use 1-inch margins all around and number the paragraphs if there is more than one. If there's only one paragraph, as is often the case, don't number the paragraph. A full signature block is not necessary but the MFR should be signed. See the template and MFR example in the Tongue and Quill for more information.
---
MFR Examples
2 Nov 21
MEMORANDUM FOR RECORD
SUBJECT: Expectation for 0900 Reports and Duty Responsibilities
1. On 2 Nov 2021 MSgt Metcalf spoke with SrA Bowlin and SPC Winkleman on the roles and responsibilities for the 0900 Reports. The previous week, there were some communication issues between SrA Bowlin and SPC Winkleman that led to MSgt Metcalf speaking to both parties.
2. The roles and responsibilities of the 0900 reports include doing a daily reporting pull at the times of 0330Z, 1030Z, and 1500Z. The 0900 operating procedure states that after each pull is done, the analyst will copy the results in NCSOC 0900 page on the following DAY tab. In addition, SrA Bowlin and SPC Winkleman will communicate, in a timely manner, any appointments, Army/Air Force days or anything else that may come up, to ensure reasonable coverage for the 0900 reports.
---
| | |
| --- | --- |
| MEMO FOR RECORD | 24 Jan 18 |
SUBJECT: SSgt X/Negligence
On 24 Jan 2018, after the 1400L rollcall, I briefed SSgt X & SrA X that they were excused from attending Commander's Call at 1500L due to mission requirements. They were assigned to launch a TDY aircraft at approximately 1500L. SSgt X willfully ignored that tasking and attended the Commander's Call anyway, leaving SrA X alone when a redball refuel occurred due to a change in mission fuel requirements. I had to pull a tow team member off of a tow that was about to start to help SrA X, which resulted in an NMC aircraft that required tow into fuel cell hangar for repair to be needlessly delayed for 3 hours. SSgt X's absence during the redball refuel also caused the TDY aircraft to depart 30 minutes late. If this were an actual event during a critical period, we would've lost the war.
This behavior is not consistent with the standards we hold our Airmen to and will not be tolerated. I have instructed SSgt X to be present for duty and for any scheduled taskings or appointments. If this were an actual event, I would've already given him an LOC or LOR.
---
| | |
| --- | --- |
| MEMO FOR RECORD | 13 Feb 16 |
SUBJECT: SrA Parker, Smoking, 12 Feb 16
On 12 Feb 16, as I was leaving work, I encountered SrA Parker smoking just outside the front door. I have told him at least once before to NOT smoke by the front door and to only smoke in the smoking area by the picnic table. If this happens again, write an LOC.



Signed
JOE HUFF, SMSgt, USAF
NCOIC, Ground Radio
---
| | |
| --- | --- |
| MEMO FOR RECORD | 11 Jan 13 |
SUBJECT: Suicide Awareness/Sexual Harassment Training note
On 11 Jan 13, I personally told A1C Holman, A1C Davis, and SrA Truman to make sure they attend one of the two scheduled briefings being held at the base theater 17 and 18 Jan. Told them to do it on their time or on duty time but make sure they attend. Left message for SSgt Hughes to pass the message on to night shift.



Signed
MARGARET SMYTHE, TSgt, USAF
Training Manager
---
| | |
| --- | --- |
| MEMO FOR RECORD | 25 Aug 16 |
SUBJECT: Smith/Late on 25 Aug 2016
1. On 25 Aug 2016, SrA Smith was not present for our mandatory squadron physical training held at 0600 in the field across from JCSE. He did not notify his supervisor, SSgt Jones, that he was going to be late and didn't show up until 0730.
2. As Air Force professionals, we know the importance of discipline and understand that it is our responsibility to report to any scheduled appointment well rested and prepared to meet our responsibilities. This behavior is not consistent with the standards we hold our Airmen to and will not be tolerated. Showing up late reflects negatively on yourself, your supervisor and your workcenter. I have instructed SrA Smith that, in the future, he must be present for any scheduled formation or appointment at least 10 minutes early. If this disregard for standards continues, I will have to formally document it in an LOC or LOR.
---
| | |
| --- | --- |
| MEMO FOR RECORD | 12 Sep 16 |
SUBJECT: MFR - Johnson 12 Sep 2016
On 12 Sep 2016, I looked for SrA Johnson to talk to him about his anc training and could not find him for about an hour. It turned out he was out getting lunch. I told him shift workers are allowed 45 minutes for lunch but cannot leave the building for more than 15 minutes.
SIGNED