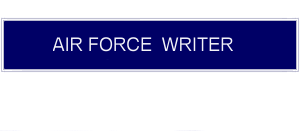 Air Force Memo For Record (MFR)
The memorandum for record (commonly referred to as Memo for Record, MR, or MFR) is used as an informal, in-house document. People working together generally pass information back and forth verbally but sometimes it needs to be recorded and filed for future reference. A Memo for Record is perfect for this purpose. It records information that is usually not recorded in writing (i.e., phone messages or meeting notes) to be passed on to others. The lack of formal format requirement encourages documentation and makes it the appropriate method for documenting day-to-day work center actions.
The Memo For Record can be typed or hand-written on plain bond paper or squadron letterhead. Use 1-inch margins all around and number the paragraphs if there is more than one. If there's only one paragraph, as is often the case, don't number the paragraph. A full signature block is not necessary but the MFR should be signed. See the example on page 188 in the Tongue and Quill for more information.