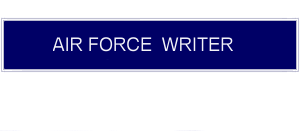 Referral EPR Memorandum
The referral EPR memorandum is the document that the referring evaluator must prepare and present to the ratee, along with the referral EPR. It informs the recipient of his rights and serves as a routing document. The example below is taken word for word from AFI 36-2406, Officer and Enlisted Evaluation Systems, Figure 1.1. which shows an example referral EPR memorandum.
Refer to AFI 36-2406, Officer and Enlisted Evaluation Systems, Fig 1.1., for memorandum content requirements.
Refer to AFM 33-326 Preparing Official Communications, for Official Memorandum format.
MEMORANDUM FOR SrA Dennis L. Franko
(Ratee's rank, name, unit, and office symbol)
FROM: Unit/OFFICE SYMBOL
SUBJECT: Referral Enlisted Performance Report
1. This Enlisted Performance Report is being referred to you in accordance with AFI 36-2406, paragraph 1.10 because it contains negative comments or derogatory information. Specifically, the following comment(s): (insert exact bullet(s) that made the report a referral) caused this evaluation to be referred.
2. Acknowledge receipt of this memorandum by signing and dating in reproducible blue or black ink. Your signature does not imply acceptance of or agreement with the ratings or comments on the evaluation. After this memo is signed, you will receive a copy. To rebut the evaluation or address any concerns, submit your rebuttal package to (name and address of next evaluator) no later than 3 duty days (30 calendar days for non-Extended Active Duty members) from the date of this memorandum. If you need additional time, request an extension from (name of next evaluator). Your rebuttal package is limited to a total of 10 single-sided pages or 5 double-sided pages and must directly relate to the reason the evaluation was referred. Documents included in your rebuttal package that are not maintained elsewhere in your official records will remain attached to the referral report for filing in your official records. Copies of previous evaluations or fitness reports will be removed prior to filing the referral report because these documents are maintained elsewhere in your official records. Rebuttal packages that contain descriptions of the character, conduct, integrity, or motives of the evaluator must be fully substantiated and documented. Contact your supervisor, First Sergeant, Commander Support Staff, or MPF if you need assistance in preparing your rebuttal.
3. It is important for you to be aware that receiving a referral evaluation may affect your eligibility for personnel related actions such as assignments and promotions. In addition, if you are eligible for promotion, a referral report will result in a promotion recommendation of "Not Ready Now" or "Do Not promote". Consult those in your rating chain, starting with your supervisor, for more information on this subject. If you believe this report is inaccurate, unjust, or unfairly prejudicial to your career, you may apply for a review IAW Chapter 10, AFI 36-2401, Correction of Officer and Enlisted Evaluation Reports, after the report becomes a matter of record.
(Signature of referring evaluator)
JOHN SMITH, TSgt, USAF
NCOIC, Plans and Programs
Attachment:
AF Form 910, 31 Mar 15 (AF Form 910/911/475, as appropriate, with close-out date)
cc: MSgt Rivers, 123 SFS/MA (Next evaluator/Rater's rater Name and Office Symbol)
1st Ind, Dennis L. Franko, SrA (Ratee's Name and Rank)
MEMORANDUM FOR: 123 SFS/MA, MSgt Rivers (Next evaluator/Rater's rater Name and Office Symbol)

Receipt acknowledged at _ _ _ _ _ _ _ (time), on _ _ _ _ _ _ _ _ _ (date). I understand I have 3 calendar days to provide a response.
_ _ _ _ _ _ _ _ _ _ _ _ _ _ (ratee's signature)
Dennis L. Franko, SrA, USAF