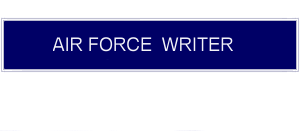 Request for Exception to Policy to Retrain
MEMORANDUM FOR: HQ AFPC/DPSOAR
FROM: TSgt Jane D. Doe
SUBJECT: Exception to Policy for Retraining into Chronic Critical AFSC
1. I request an exception to policy concerning my application for retraining from the balanced AFSC 2A676 into the Chronic Critical AFSC 3S311. I have tried to retrain for several years into a career field where I would be more effective to the success of the Air Force mission. I am excited to finally have the chance and believe I can do just that in the Manpower career field.
2. Currently at Mountain Home AFB AFSC 2A676 is manned at 94.26% (authorized 93, assigned 88). AFSC 3S311 is currently manned at only 50% (authorized 2, assigned 1). In the next year Mountain Home AFB will be shutting down the 390th AMU which includes 19 personnel with the AFSC of 2A6X6. Five of these individuals are 7-levels and another four are in upgrade training to be 7-levels. These individuals will be dispersed to the 389th AMU, 391st AMU and the Component Maintenance Squadron bringing the manning numbers even higher than they are now. My recent PCS to Mountain Home AFB would make it easy and economical for the Air Force as I could retrain and immediately fill a vacancy here without the cost of moving me and my family again.
3. I have served honorably since 08 March 1995. In my 14 years I've served in numerous positions including Shop Chief, Squadron Safety NCO, and Quality Assurance Inspector where I have utilized computerized databases to sort data and analze trends. I have written policies, instructions and have authoured operating agreements between units. I have also been involved in several AFSO 21 events. All of this experience would make me a valuable asset to the Manpower career field. I respectfully request that my retraining application be considered.
JANE D. DOE, TSgt, USAF
Electro/Environmental Craftsman
1st Ind, AMXS/CC
I concur/ do not concur with the Exception to Policy.
JOHN L. SMITH, Lt Col, USAF
Commander