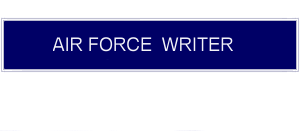 The StellarXplorers is a STEM program created and developed by the Air Force Association (AFA). It encourages and inspires students toward careers in aerospace, aviation, and other STEM subject areas which are critical to our nation's security and the future of space exploration.
The program is sponsored and assisted by leaders in the space industry and government agencies and contractors including the Air Force Research Laboratory (AFRL), Lockheed Martin, and L3Harris. Participation in this program can launch participants on a course of life-long learning and lead to a variety of rewarding opportunities in the space industry.
The StellarXplorers Ribbon may be awarded to StellarXplorers team members who have demonstrated outstanding achievement while participating in the StellarXplorers STEM program in any capacity. For each additional award earned, an additional bronze oak leaf cluster will be worn. A single silver oak leaf cluster will indicate the award of the fifth bronze oak leaf cluster. This ribbon replaces the StellarXplorers pin which is no longer authorized for wear on cadets' uniforms.