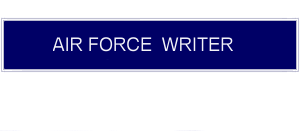 Air Force Letter of Appreciation
Recommending someone for a medal isn't the only way to recognize someone's contributions. At the lower end of the recognition spectrum is the humble Letter of Appreciation. Although widely considered less meaningful than an Achievement Medal or other decoration because of the promotion points, a Letter of Appreciation can still pack a knockout punch! A Letter of Appreciation, received from the Commander or the Chief of Maintenance, can have a big impact on a troop's motivation.
I remember when I received one unexpectedly from our Squadron Commander --YAHOO! I was on top of the world for a few hours. It really made me happy to think that the Commander thought enough of me to recognize my efforts --or that he was even aware of what I was doing! It made me proud too. And a little big-headed for a while. I thought I was somebody! Yes, Letters of Appreciation can have just as much or even more impact as decorations. After all, Letters of Appreciation are awarded for genuine accomplishment which is not always the case with medals. When a person receives a Letter of Appreciation, they know they've accomplished something!
I strongly endorse the use of Letters of Appreciation as a recognition tool. It costs nothing but a few minutes of your time, they're easy to process because all the coordination is within your unit or group, and they pay big dividends in pride and loyalty. Letters of Appreciation are appropriate for just about any circumstance where a person goes above and beyond the call of duty. There is no guidance on what you can say in a Letter of Appreciation. Below are a few examples of Letters of Appreciation you may be able to use as a starting point for writing yours. A last word of advice: award Letters of Appreciation only when they are earned. If they become too common or if everyone receives one, they lose their impact.
Letter of Appreciation Examples
Captain Johnny T. Steak
88 AW/PA
Captain Stamm
On behalf of Mr. Vernon Stamm, I want to personally thank you for your expert care and sensitivity shown during an unforeseen accident on 27 September 2012. Your quick decision was key for maintaining her alive. Your heroic actions not only reflect on you as an individual but also on the 88th Air Base Wing. I truly appreciate your dedication and hope you recognize, as I do, the valuable role you play in our Wing, 445th Air Base wing, and our Air Force.
Again, thank you for your outstanding service!
Sincerely,
ANNA-MARIE A. AYALA, Colonel, USAF
---
MEMO FOR AIRMAN CARLOS GONZALEZ
SUBJECT: Letter of Appreciation - DARK ANVIL
Dear Airman Gonzalez,
Rarely in a career is a military professional called upon to respond to a vital contingency for which he or she is so confident and fully qualified. In every respect, the tiger team from the Headquarters section was ready for the challenge presented by the requirements of Operation DARK ANVIL. You and the other members of your extremely capable group of warriors did an absolutely outstanding job of securing the advanced position, setting up and establishing communications, and coordinating the movement of follow-on forces. Without your dedication to duty and tenacity under extremely adverse conditions, this operation would not have been the success that it was.
General Villanueva, the JTF Commander, was extremely pleased with the results of your actions and spoke very highly of you and your unit. I know that successes like this are not automatic and are the result of planning, practice, hard work, and sacrifice on the part of you and every member of your flight. Thank you for your earnest support of our squadron and of the United States Air Force.
V/R
Incomprehensible Scribble
---
MEMORANDUM FOR SSgt Yolanda Ruiz
FROM: 13AF/CC
SUBJECT: Letter of Appreciation
1. I would like to express my sincere thanks for the excellent work of SSgt Yolanda Ruiz. As a member of the Munitions Storage team, SSgt Ruiz displayed great professionalism and technical expertise in transitioning from the storage, transfer, and implementation of conventional aircraft munitions to the state-of-the-art, classified aircraft munitions complement. Working under stressful conditions, her diligent efforts overcame numerous unforeseen obstacles and ensured a minimum amount of downtime.
2. SSgt Ruiz assisted in developing procedures and policies for storage and use that corrected problems with compatibility issues and guaranteed the efficient integration into the base's arsenal. The local instructions written by SSgt Ruiz and her crew have been evaluated by several flying squadrons and adopted as standard procedure throughout PACAF.
3. I want to express my sincere appreciation for SSgt Ruiz's hard work and dedication in engineering this transition and ensuring the successful upgrade of our F-15 capability. I also want to encourage her to continue to provide guidance and support to other squadrons in PACAF making the transition to advanced munitions. Our mission depends on the F-15s' abilities and that of capable young Airmen like SSgt Ruiz. Again, thanks for a job well done.
Scribble Scribble Scribble
FRANK BURNS Jr., Colonel, USAF
Commander, 13th Air Force
---
Tongue and Quill Example
Colonel Jacob R. Bradley
Director of Plans and Programs
550 McDonald Street
Maxwell AFB-Gunter Annex AL 36118-5643
Colonel William J. Nash
Program Director
75 South Butler Avenue
Patrick AFB FL 85469-6357
Dear Colonel Nash
Thank you for your outstanding presentation to the Air Command and Staff College Class of 2003. Your briefing was right on target and expertly integrated many aspects of our curriculum into a focused leadership perspective. Our students face increasingly complex challenges, and your keen insights were invaluable in preparing them for the future. We appreciate your support and look forward to future visits.
Sincerely
Scribbled Signature
JACOB R. BRADLEY, Colonel, USAF
---
Subj: Letter of Appreciation
Dear TSgt Young,
It is my pleasure and privilege to express my appreciation for your contribution to the success of the Team Charleston Family Service Center's Military Spouse Information School.
During 2005, 78 spouses attended the school, bringing to date the total number of attendees to 795. This program would not have received the positive accolades it has, as expressed by the attendees, without the invaluable support of people like yourself. Your enthusiasm and knowledge have contributed directly to the success of the school and ultimately to the success of our mission. Your earnest participation benefits not only the attendees, but also our service members and their families. The better prepared and more informed our spouses are, the better they are able to cope with the challenges of military life and contribute to their spouse's success. Your efforts are sincerely appreciated.
Congratulations on a job well done.
Colonel William LaForgia
---
TSgt Juan Lujan
677th Maintenance Squadron
609 Hap Arnold Boulevard
Kunsan AFB, Republic of Korea
Dear Juan,
Your efforts directly contributed to making the squadron's 2006 Christmas Party the best I've ever seen in my 15 year career. Your contributions guaranteed our celebration was a resounding success in every way. More than 250 members and family attended and enjoyed the festivities. In addition, our distinguished guests unanimously agreed it was the best party they had ever had the pleasure of attending. Your earnest and thoughtful work increased morale among our members and their families and ensured that the holiday season had a memorable and appropriate beginning. You are truly a valued member of the 677th Maintenance Squadron family and the United States Air Force.
Sincerely,
JOHN P. QUBLIC, Lt Col, USAF
Commander
Continue to more Letters of Appreciation