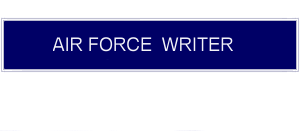 Air Force Letters of Appreciation
SUBJECT: Letter of Appreciation
TO: SCXXPM (SSgt Daniels)
1. The recent Misawa Air Base Open House was a grand success. All activities were well conceived, planned, and executed. All who attended and participated enjoyed themselves tremendously, as did I. Our Squadron's involvement with this activity was highly visible and I can say that our reputation as a unit that makes things happen has made us the envy of the Wing.
2. Please accept my heartfelt appreciation for all your hard work and sacrifice. Your personal involvement and dedication to the welfare of our community has contributed greatly to base morale and improved the relationship between the base and the local population.
3. As a token of my sincere appreciation, I am awarding you a one-day pass, to be taken at the discretion of your supervisor. Again, thanks for all your efforts and keep up the good work!
JOHN WAYNE, Colonel, USAF
Commander
---
MEMORANDUM FOR COMMANDER
1837th E&I
113 Bong Hwy
Clark AB, RP
FROM: JTF-SWA/CC
SUBJECT: Letter of Appreciation
Colonel Potter,
1. When the decision was made to move an operational headquarters within 30 days with no loss of communication or command, there were many people who were skeptical it could be done successfully and many others who predicted certain failure. The plan to move the Command Post became known as the Impossible Dream because no one believed it could be done without days or even weeks of service interruption. It was a very ambitious undertaking which required the coordinated and dedicated efforts of many people from several agencies. But despite the obstacles and the shortage of time, the members of the 1837th Electronics Installation Squadron, led by MSgt Porter, did the impossible. They hit the ground running and ran new circuits via alternate paths to our new facility, effectively building a duplicate and completely functional command post before they even attempted to cut over the existing trunks. The end result was a brand new facility with better communications than our old one and not one minute of downtime. Your members accomplished the impossible and I'd like to single them out to express my sincere appreciation.
MSgt Bob Porter
TSgt John Little
TSgt Raymond Collins
SSgt Lamar Troup
SSgt Dan Brown
SSgt Ed Little
SSgt Owen Zumwalt
SrA Steve Kapp
Sra Rob Sweetland
2. Your team, and I mean team in the truest sense of the word, worked tirelessly, often late into the night, to keep this complicated project on schedule. It is impossible to estimate what might have been lost in terms of men and equipment if this project had not been successful. The success of our mission in Southwest Asia is a direct result of your unit's support. I can't adequately express my admiration of your unit's professionalism and pride or my gratitude for their selfless efforts. On behalf of the JTF SWA staff, please accept my thanks for a job well done.
CURTIS P. COLTRAIN
Brigadier General, USAF
Commander
---
Dear James,
Thank you for assisting with the recent retirement ceremonies. Your thoughtful efforts helped create a world-class event and lasting memories for retiring Air Force members and their families. In addition, your selfless contributions increased the morale and esprit de corps of our squadron which is an even larger and ultimately, more important accomplishment. You truly are a valued member of the 601st Maintenance Squadron and the United States Air Force.
As always, it is a pleasure serving with you. Thanks again for all your hard work.
Sincerely,
JOHN W. WAYNE, Colonel, USAF
Commander