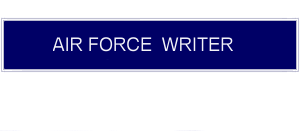 Air Force Quarterly Awards
The AF Form 1206 is used to nominate Airmen or civilians for awards. It records the justification for quarterly and annual awards at all organizational levels from Flight to Headquarters Air Force. These awards enhance the overall visibility of Air Force personnel, including Air National Guard and Reserve, and their accomplishments.
Awards are effective tools to recognize outstanding achievement by officers, NCOs, airmen, and civilians and reward individuals for initiative and substantial achievement. They also foster morale and public support of the Air Force by communicating the accomplishments of its members. To standardize the nomination process, the Air Force requires that all nomination packages for awards will be submitted on AF Form 1206, Nomination for Award, IAW AFPD 36-28, Awards and Decorations Program. They are limited to two pages using 12 pitch, Times New Roman font, unless otherwise indicated.
Completing the AF Form 1206
The format required on the AF Form 1206 depends on the award being applied for. The most common format is for Quarterly Awards at the Squadron level. For Quarterly Awards, in the SPECIFIC ACCOMPLISHMENTS block, additional categories are added:
PERFORMANCE IN PRIMARY DUTY.

LEADERSHIP.

SIGNIFICANT SELF-IMPROVEMENT.

OTHER ACCOMPLISHMENTS.
The categories required for awards in your Squadron depend on what your Squadron has established as a standard. The following are other commonly required categories:
LEADERSHIP AND JOB PERFORMANCE IN PRIMARY DUTY.

LEADERSHIP QUALITIES (SOCIAL, CULTURAL, RELIGIOUS ACTIVITIES).

SIGNIFICANT SELF-IMPROVEMENT.

OTHER ACCOMPLISHMENTS.

POSITIVE AND ARTICULATE REPRESENTATIVE OF THE AIR FORCE
Or
LEADERSHIP AND JOB PERFORMANCE IN PRIMARY DUTY.

SIGNIFICANT SELF-IMPROVEMENT.

BASE OR COMMUNITY INVOLVEMENT.
There is not a specified number of lines required for each category but to be competitive, each area must be addressed and to present the image of a well-balanced Airman, the number of entries per category should be roughly equal.
If the award being submitted for is a MAJCOM or Air Force level award, refer to that award's instruction. High-level Air Force Awards have Air Force Instructions written that contain guidance on format and submission requirements:
AFI 36-2822 The USAF Installations and Logistics Award Program
AFI 36-2848 Air Force Security Forces Awards Program
AFI 36-2852 ANG SUP Air Force Services Awards Program
AFI 36-2855 Judge Advocate General Awards Program
The above are examples. There are many others, too numerous to list here. Google the award you're submitting for to find the appropriate AFI.